Welcome to healthy water themed crafts part 3! This series is all about crafts that encourage us to drink more water and that help us appreciate clean rivers, lakes, and oceans.
Part 1 covered crochet, woodworking, quilling, lace and tatting, weaving and tapestry, and mosaic tile. Part 2 featured polymer clay, embroidery, scrapbooking, metalworking, ceramics, and stained glass. This is the third of my six posts covering everything from leatherwork to baking, beadwork to soapmaking and everything in between…

[Tidal Pool Reflections by Sherry Buck via Flickr]
Water Themed Crafts in Knitting
Here's a few patterns for water bottle holders that (hopefully) will encourage us to drink more water, or at least make us look more fabulous carrying around a water bottle. First up is this pattern by Kelly Spenhof on Ravelry.
Next is this project on About.com Knitting that, as an added bonus, uses yarn that is made in part from recycled plastic bottles.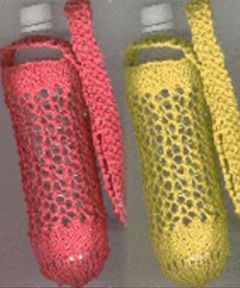 Finally is this pattern from LanaKnits that uses a relatively small amount of hemp yarn.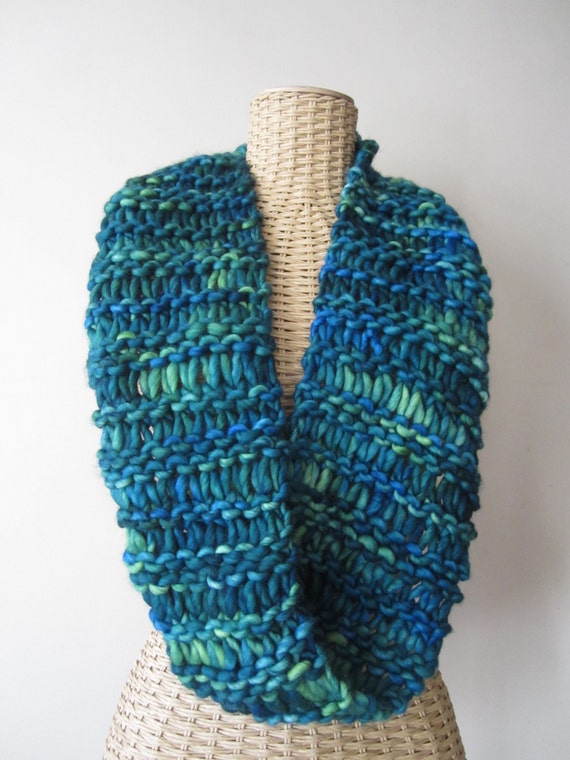 A little watery inspiration can be found in this chunky merino cowl offered by HandKnitPalette on Etsy.
On Ravelry is this lovely Ocean Serenade shawl by Christine Burkhard
and Sandra Singh offers this Gentle Breezes pattern by HeartStrings. Despite the "airy" title, the breaking waves and ocean spray are easy to see in in this shawl.
This post by Jeanne at LifeinCleveland describes her watery inspiration and the pattern source for this very attractive hat.
Water Themed Crafts in Paint
First up is a bit of a lark – I'm not sure if nail art counts as a craft, but here's a tutorial for these nails by ChalkboardNails that certainly are cute and show an appreciation for clean oceans!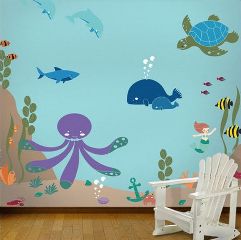 For kids (or fun adults!) there's this undersea-themed stencil kit which is a great way for children to start learning about the importance of clean water.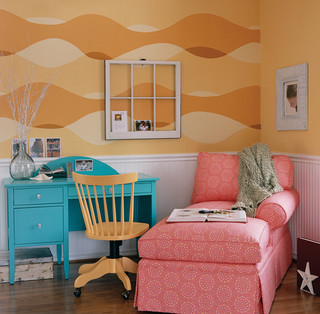 Although there are other wave paint patterns out there, I found this pattern via Houzz particularly appealing. These waves could be in any number of color schemes and still convey a watery vibe.
From PureJoyEvents comes this tutorial for this really clever and inexpensive ocean-inspired ombre backdrop made of paint sticks.
And from Seriously, I'm Thrifty, here's a great DIY tutorial for painting this jewelry box. Nice to take a solid but dated looking piece and give it a modern and fresh look! If you were wanting a more ocean-y look, you might think about replacing the hardware with some fun glass or shell-shaped pieces.
Water Themed Crafts in Beadwork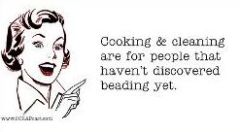 This link to CafePress shows all the water bottles available that are "bead" related. So there are some references to Mardi Gras beads and some other things that aren't crafty, but there are quite a few that definitely would appeal to crafters.  I have to say I'm partial to the saying on the right:
From the Eugene Register-Guard and FireMountainGems are two articles about the same stunning project by Russell Morton. His "Four Seasons of Water" was created "as his effort to clean up the earth's water in his lifetime." And while he was beading, his "attention was completely focused on holding the thought of clean water." A stunning and noble project.
More inspiration can be seen in this post by LissC of her fun underwater cuffs. Love her use of circles to represent the swirling water!
Some freshwater ideas may come from this waterfall piece by Robin Atkins via her Beadlust blog.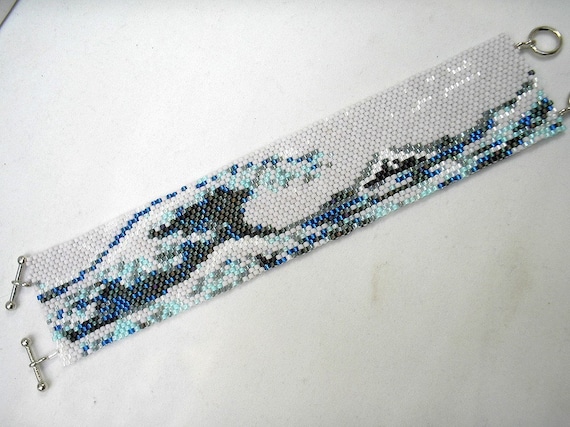 Hannah Rosner offers this Hosukai Great Wave beading pattern through her Etsy shop, HannahRachel.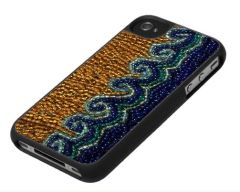 If you don't want to make your own wave-pattern beaded iPhone case, you can always just purchase this printed one from Zazzle.
Lastly is this beautiful beaded valentine by Susan Elliott at PlaysWithNeedles. I encourage you to read the touching story behind this piece. The colors and textures used evoke sea and shore in a lovely way.
Water Themed Crafts in Leatherwork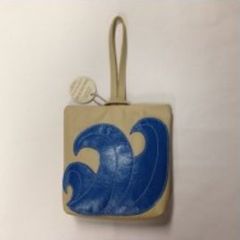 We'll start off with this cute wave wristlet bag by Susan Clark Designs via NausetSurfShop.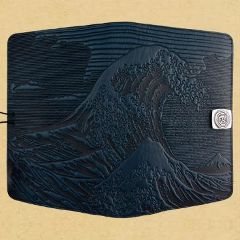 Then there is this sophisticated handmade Hokusai Wave Kindle cover from OberonDesign.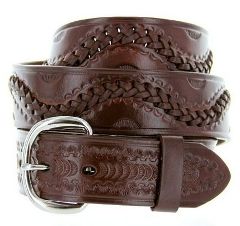 I wish there was a tutorial for this belt! Love how the braided wave makes this belt (available on Amazon) a little more interesting.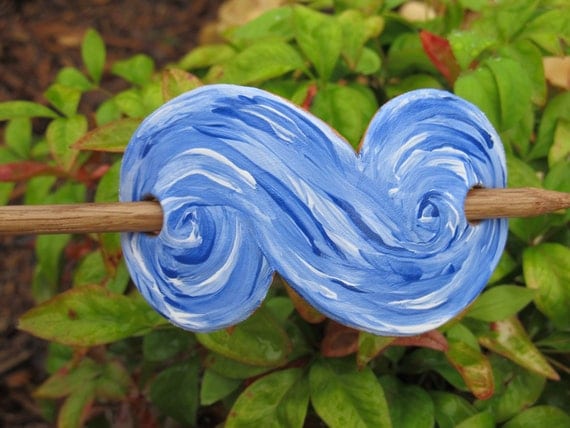 This barrette by SarahsArtistry on Etsy is an interesting way to combine leather and paint to create a wave look.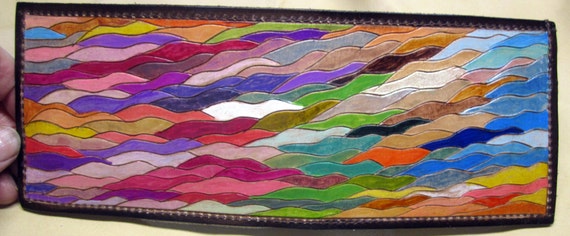 I really like this carved waves wallet by Peggy Broome in her Galeatherlady Etsy shop. The shapes and especially the colors make this leather gorgeous and distinctive. The pattern is also used on a fun hair barrette.
This chair cover is a great idea – made from pieces of repurposed leather. The post on inhabitat calls them scales, but why not call them waves? Once again, there's no tutorial on this, but what a great opportunity for a DIY project!
Water Themed Crafts in Chainmaille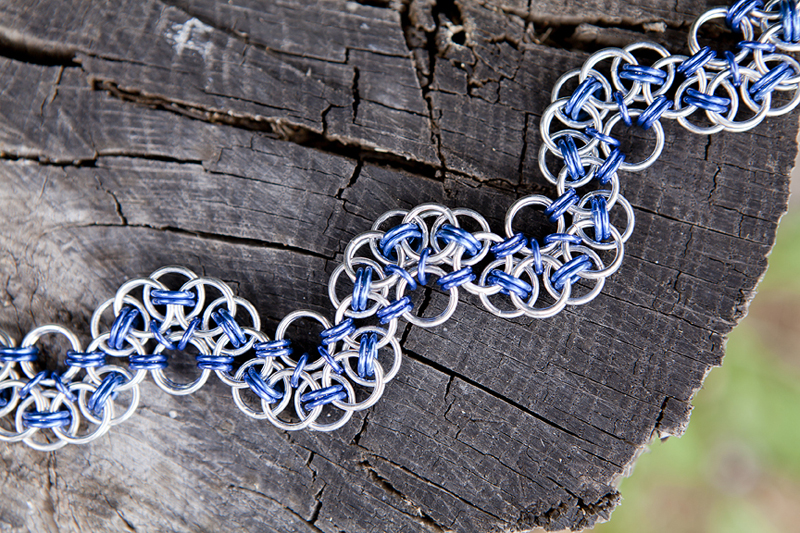 There are a lot of chainmaille patterns that, with the right color rings, can be made to look like waves or like water. Here are three examples that are among the best. The first is this undulating pattern as seen on BlueBuddhaBoutique.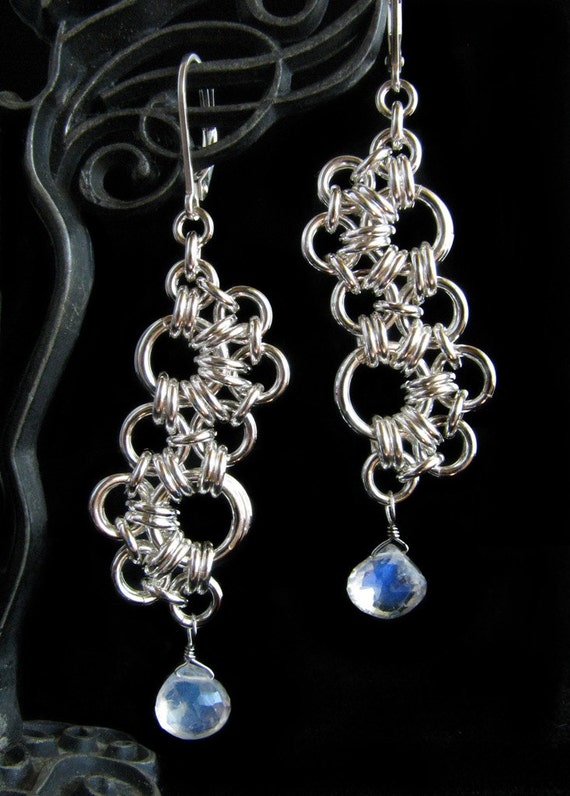 The second is a tutorial available on WolfstoneJewelry's Etsy shop for this really attractive Japanese wave pattern.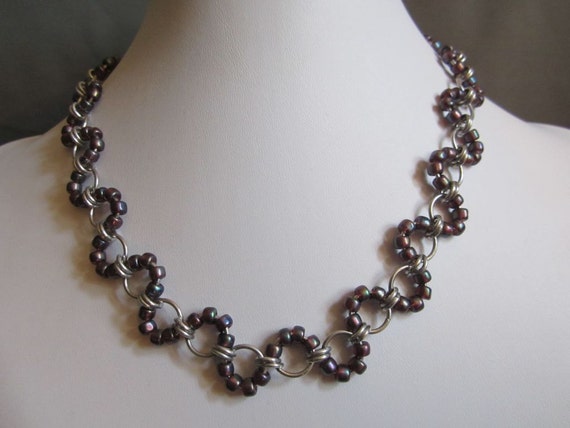 The last is this simple but elegant necklace as seen in MorganasDesigns Etsy shop. The beads used in the photo are good, but imagine this with some watery blues and greens!
Water Themed Crafts in Gardening
Water is, of course, of supreme importance when it comes to gardening. I've found a few good ideas about water gardens, collecting water, and using clean water in hydroponics. Before I delve into that, however, I thought I'd share this fun wave wall rack as seen on LawnandGarden Retailer for hanging plants. It would be a pretty way to divide areas in a garden!
Jamie at ScatteredThoughtsofaCraftyMom has this excellent tutorial on how to make a bubble fountain in a pot. Bubble fountains are attractive and make soothing sounds, but to buy one already made from a garden store can be expensive! Jamie's instructions will save you a lot of time and money.
For those of you who would like a water garden but have limited space, ApartmentTherapy has a DIY to create this lovely planter.
There are a ton of books on water gardens. Just type that phrase into a book search on Amazon and you'll get a lot of good options. The first result on Amazon is the well-reviewed The Water Gardener's Bible by Ben Helm and Kelly Billing.
When it comes to conserving water, MotherEarthNews has some great instructions on how to make your own rainwater collection barrel. From possible ways to get a free container to how to keep mosquitoes out, this is definitely full of helpful info.
There's a similar DIY on the Instructables site about a 275 gallon rainwater collection system. As an added bonus, there's an update from EcoProjecteer in July 2013 that shows some of how they tripled the capacity, raised the containers, and managed to make them look nice!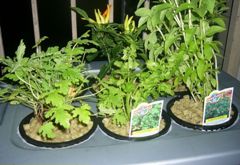 Then there's the rapidly growing topic of hydroponics. The information available can be overwhelming, but this article, also at Instructables, may be a good place to get started. It outlines the basics and has ideas for DIY systems while saving money over purchasing prepackaged systems.
This DIY by Dean at UrbanGreenSurvival details how he turned water bottles into a series of hydroponic mini green houses. This looks like a great way to use window space and repurpose otherwise wasted plastic bottles into an efficient hydroponic system.
That finishes finishes this healthy water themed crafts part 3, covering knitting, paint, beadwork, chainmaille, leatherwork, and gardening. Is there anything in these crafty categories that you would like to add to the comments?
Make sure you have checked out Part 1 and Part 2 of this series! And stay tuned for the next THREE installments, featuring jewelry, glass work, origami, felt, candlemaking, basket weaving, and a whole lot more!
[Update: Here are Part 4, Part 5, and Part 6 in the series!]