ThreadworX variegated floss has just been added to my Etsy shop!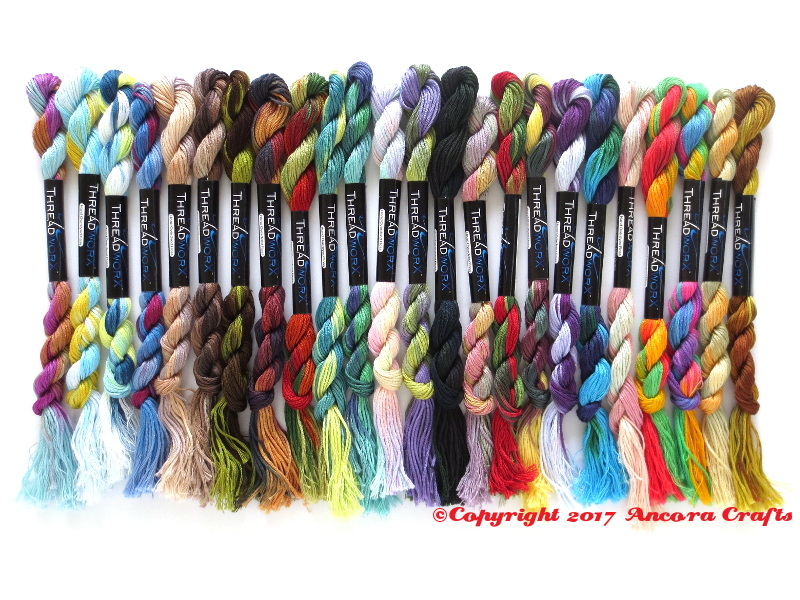 Just look at these gorgeous combinations of color – and they're even better looking in person. ThreadworX creates these brilliant flosses in their Southern California facility. As I live relatively close by, I've been lucky enough to meet the creative talent behind these combinations. These flosses truly are hand-dyed – I was greeted with a green handshake the day I visited.
The manufacturing process for DMC and Anchor variegated threads, I believe, limits the number of different colors on one skein to four. While those flosses are gorgeous in their own right, the hand-dyed process at ThreadworX allows for more than four colors on one skein. This is best evidenced by the true rainbow of floss number 1154 – Bradley's Balloons.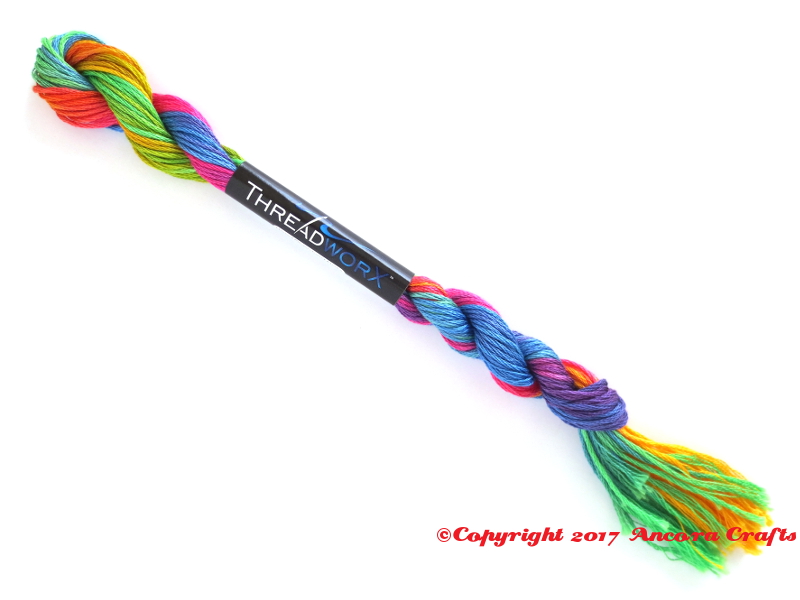 When unraveled, these are 20-yard skeins composed of 20 pieces of one-yard long floss as you can see below. This is different than the 8.7 yard long skeins of DMC and Anchor that many of us are accustomed to. However, this is a similar top-quality six-strand floss that stitches up exactly the same as a DMC or Anchor floss.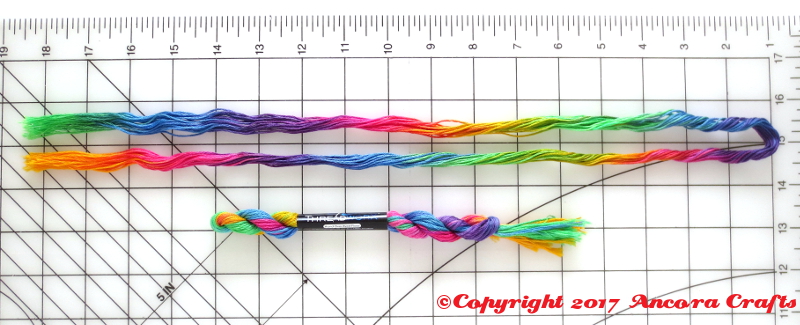 Below is a sample of this floss stitched on 18-count Aida cloth in a variety of directions. The top three (diagonal, serpentine vertical, and spiral) used two strands, and the bottom (serpentine horizontal) used just one strand.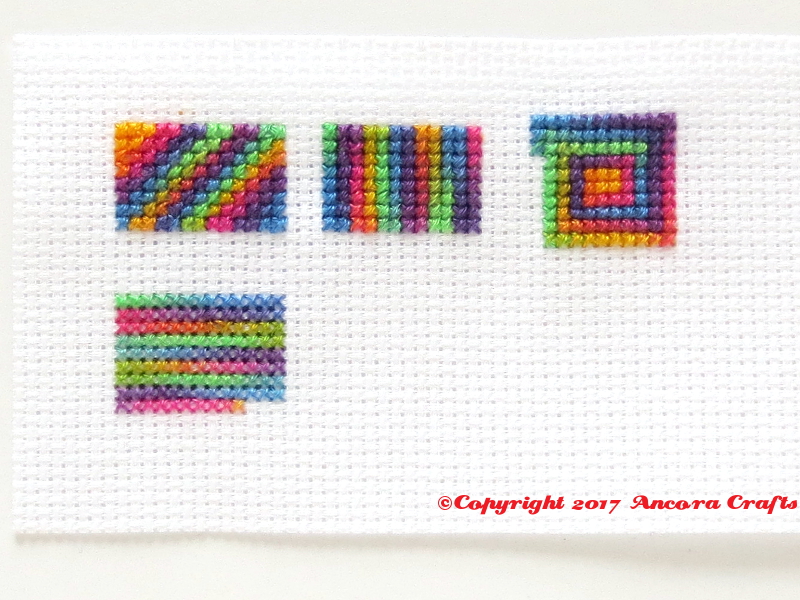 Here's the same floss again stitched on 14-count Aida cloth. The left sample used one strand, and the right used two.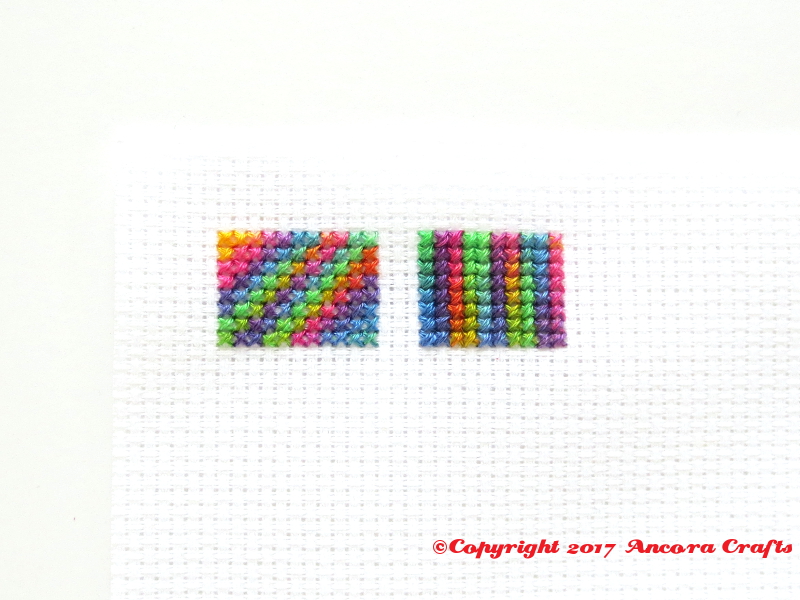 This floss has great quality, it was easy to handle, and it was really fun to see how the colors changed with every stitch.
At the moment, I'm just carrying the 24 flosses you see in the photo at top, however if these start to sell well, I can easily see my shop adding more colors very soon!
Here are a few of my favorites thus far: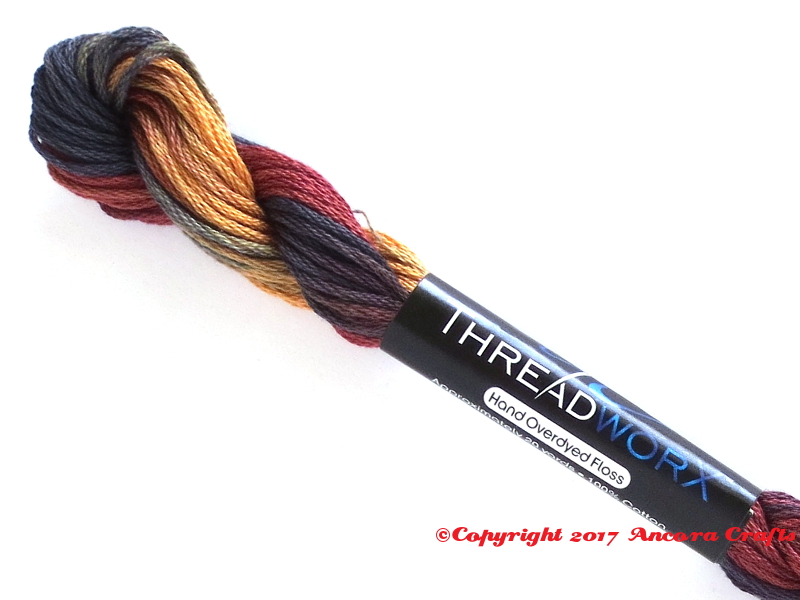 Above is ThreadworX 1039 – Autumn Leaves. It's a gorgeous mix of browns, gold, rust, and dark gray. I can only hope that this photos does it justice, as it is stunning!
This subtle mix of pink, yellow, gray-green, and purple is ThreadworX 1078 – Pastel Bouquet.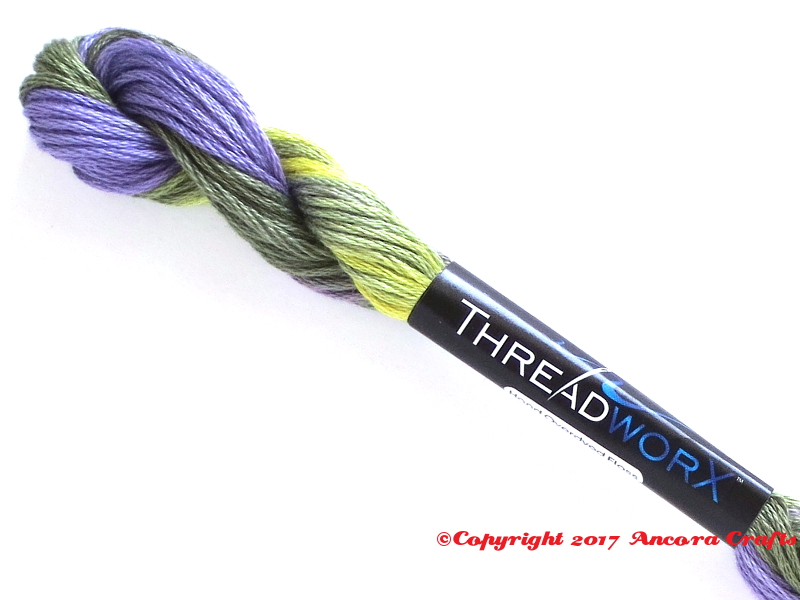 This combination of greens and purple is 1068 – Hawaiian Flowers, although it really reminds me of the beautiful Jacaranda trees that bloom in Southern California in the late spring.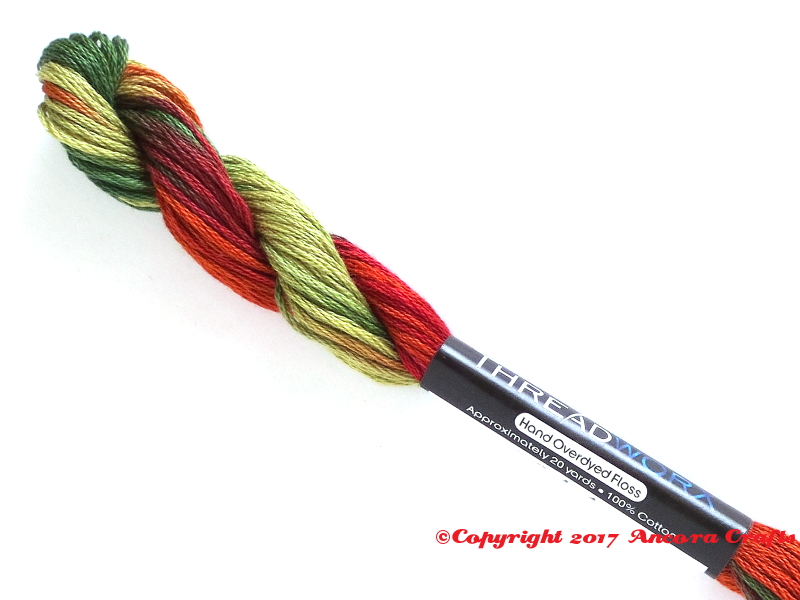 ThreadworX variegated floss 1044 is a spicy blend of greens, dark red, and rust named "Chili Peppers."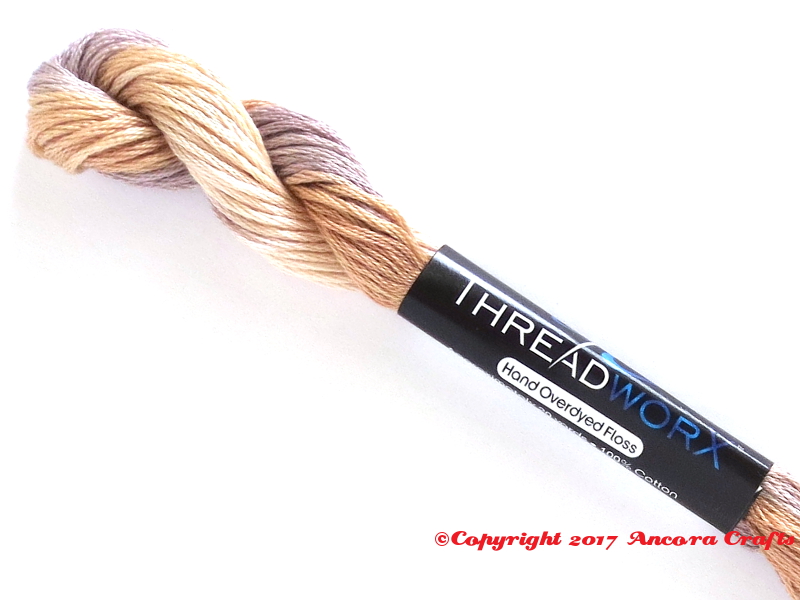 1032 – Brown Sugar and Spice is a subtle mix of light browns – from white chocolate through milk chocolate and dark chocolate shades. It reminds me of seeing timeless geologic strata in bright desert light. Once again, I hope the photo does this floss justice as I really adore this one!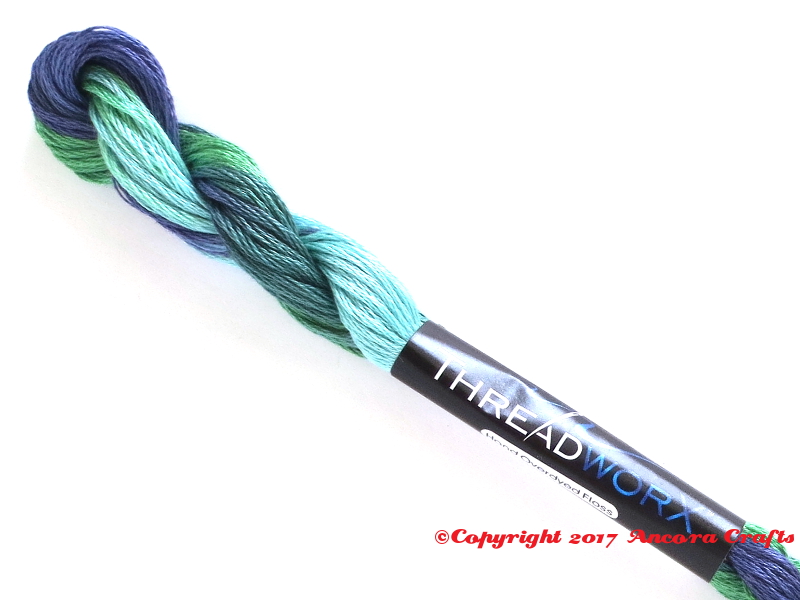 The last one I'll highlight for now is this ThreadworX 1053 – Dreamscape. It is indeed a dreamy combination of purple, greens and light blue. Lovely!
I hope you check out the ThreadworX variegated floss and all of the variegated flosses I carry in my Etsy shop. Also check out my six-part series on a million different ways to use variegated floss in craft projects from needlework and quilting to furniture, jewelry, home decor and much more!