Welcome to this ACrafty Interview with Apockylypse! Today we're peeking into Kelly's viking-helmeted skull and her knitting goodness.
When did you start crafting? K: In all honesty, I would probably say I've been crafting my entire life. I've always been the creative sort, whether it be drawing pictures for parents/grandmothers or taking objects to create something else. I had quite the imagination as a little girl. /* who am I kidding, I still do! */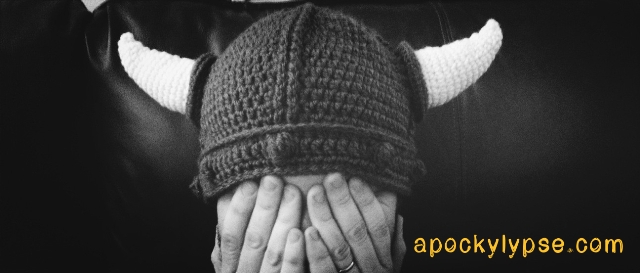 But if I had to give a specific age of my first memories of crafting, I would have to say the one that stands out is when I was 4 or 5 & played "Pins and Needles" with my Mimmy. For crafty sorts you would more commonly know it as cross stitch. That was actually my first experience with designing too!
We took a plain white cloth and I told Mimmy what I wanted to make. She drew, ever so neatly, x's in the pattern I described. Gave me a threaded needle in the color I picked & then I was set loose. Poking the needle up until I found the right mark. /* hence the name "pins and needles". */
What crafts have you tried and what is your current favorite? K: It might take up less time if you had asked me what crafts I haven't tried. You see, I'm a bit of a craftaholic and I love to learn new crafts any chance I get. But I guess I'll give you the answer you are looking for:
Cross Stitch
Sewing
Knitting
Crocheting
Macramé
Felting
Drawing
Beading
Loom Knitting
And there are probably some others that I'm forgetting at the moment, but if it's not on the list that just means I haven't had a chance to learn it yet.
My favorite? Yikes! That's almost like asking a parent to pick their favorite child. But I guess I would have to say knitting. It's my crafting paradise because I can always seem to get lost in the stitches and escape all the crap the zombie job sticks in my head after hours. Plus I just love sweaters!
What craft project are you most proud of? K: I would have to say any of the sweaters I have made as gifts for family. For the most part I stick to hats since most of my friends and family love the hats I make, but I wanted to challenge myself and do something for family. I was proud not only because they turned out well, but I actually finished them. It was quite the project! If you've ever hand knit a sweater, you know what I mean.
If you're a seller, what is your most popular project? KM: I don't have an online shop yet, but I have sold a few things to friends and at a few local craft shows. So far the biggest seller has been my plain crocheted beanies, but that's starting to become a close second to the Viking beanies I've been making lately.
My mister wanted one to wear to various cons and once I posted pictures of the finished product I started getting messages from people I didn't even know that saw it on his page or through a friend. And I have to say that the Viking hat has definitely become one of my favorites to make. It's just so darn epic!
Has a craft or craft project ever challenged you in an unexpected way? K: Oh I've been challenged, but the way I look at it is that it's just another awesome puzzle to piece together. And boy do I love me some puzzles!
There was one project I was working on where the gauge (stitches per inch) was incredibly important to be spot on. I knit up a swatch that matched perfect, but when I cast on for the actual project and got a few inches in things didn't match up. But I wasn't going to let this project beat me!
Instead of sitting it aside, I started scouring every craft book and site I could think of…trying to learn that one secret that would help me understand it all better. See? I told you I always want to learn more about crafting!
How has crafting affected your character? K: I can't really say that crafting has changed me because I really can't remember life before crafting. But I will say that it does have a wonderful effect on my mood.
There have been many times when the zombie job has stressed me out or frustrated me so incredibly much. And while coming home to my mister and furbabies definitely helps calm me, nothing seems to do it quite like crafting. Like I said before, it lets me escape to another world that is my happiest of places. And depending on the project, it could be a fantasy world where anything is possible.
I've seen many a knitter say "I knit so that I don't kill people" and there really is some truth in that. I honestly think I would be in the looney bin if it wasn't for something as simple as sticks and string. It's almost as calming to me as meditating.
I also believe I can thank crafting for my thirst for knowledge and amazing puzzle solving skills. Some may say it's my math brain that allows me to do a book of Sudoku like it's nothing, but I think crafting might have a little bit to do with it too! You are always piecing things together. Matching things up. Or finding ways to fix little mistakes or mishaps.
Another funny thing about knitting. You hear so many people say that they aren't patient enough for it, but you know what? Some of the most impatient people I know are amazing knitters!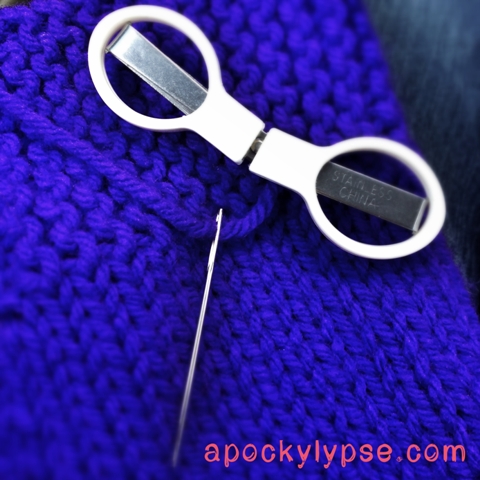 Can you share a story about how your crafting has affected others? K: Well I have been told by many friends how I've inspired them to learn to knit or crochet. Sometimes it has to do with the projects I'm making, but a lot of them see how excited I get about making things with my hands and they want to give it a go. I have to say that I am a creativity advocate. There is nothing that makes me happier than being able to watch my loved ones express themselves through handmade things and see all the amazing pieces that are a product of that. So what amazing project do you have inside you? I know there is one!
That reminds me! I need to go grab some sticks and string to take over to my in-laws house. My mother-in-law has asked me to teach her to knit. She expressed the desire to find a hobby and is always intrigued by my knitting.
What crafty goodness do you have coming up in the future? Why is it appealing to you? K: I have a few more Viking hats to make, but one thing I'm super excited about is my future online shop. I have dreamed of the day that I could quit my zombie job and do the craft thing full-time. I mean, it is my passion! I don't have an exact date of when that will happen because I'm working on designs and acquiring some funds to get it going, but if you keep your eyes on my blog or other social media I know you will be hearing about when that day comes.
Thanks so much, Kelly! Best of luck with your future shop…
You can follow Apockylypse's adventures on her blog, Twitter, Facebook, Google+, and Pinterest
Would you like to be a part of this ACrafty interview series? Just contact me! You might also be interested in reading some more ACrafty Interviews with knitter Sabrina, cross stitcher WhateverJames, and multi-crafter Diane from CraftyPod!