Some big new projects have kept me incredibly busy lately!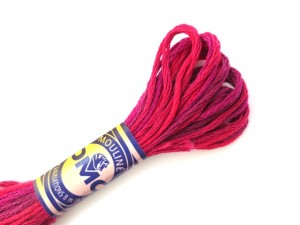 First and foremost, my variegated floss sales on Etsy have been picking up considerably, which is great news. People are discovering that my pricing is very competitive, so I've spent some time filling orders. The most popular colors thus far are DMC 4210 (Radiant Ruby) and 4255 (Orchid).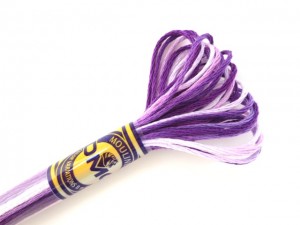 The Ruby floss (above) is gorgeous, so I understand why it's popular. And Pantone declared "Radiant Orchid" to be their 2014 Color of the Year, which may help explain why DMC's lovely Orchid variegated floss is selling well.
With the increased sales, in the last week I've created a few more metrics and tools to help me keep track of inventory. These take some time to set up, but once that is done, it's a matter of maintenance.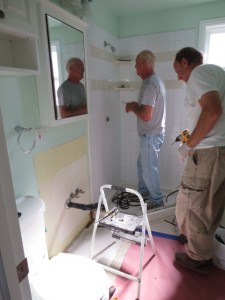 Aside from Ancora Crafts, I've got two big projects underway. First, one of our two bathrooms is being remodeled. A corner shower stall is going away and making way for the whole end of the room to be tiled and a glass wall and door installed. The room is pretty small, so it's not an enormous project, but it's substantial enough that we have a contractor doing the work. My husband and I have been running around for a couple of weeks picking out new tile and plumbing fixtures. Much fun but much time consumed!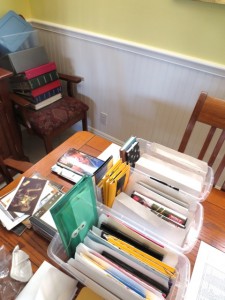 Remember non-digital photographs? Like many of you, I have a ton of 'em, and I've just started the process of putting them in chronological order, tossing out 75% of them (how many photos of a graduation or a family picnic do you really need to keep?), and then scanning the photos that remain.
I'm also going to dismantle nearly all of my scrapbooks (you can see a few of them in the photo at top left). I really don't look at them very often, they're heavy and take up a lot of space, and most of them use those sticky sheets that just aren't good for the photos. The photos reside in an earthquake and tsunami zone, so if the big one were to hit, they would be destroyed. At least if I have them digitally, I can put them in the cloud and I know I won't lose them forever to become part of a huge Pacific floating trash island.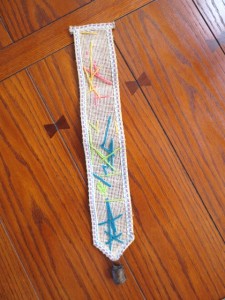 A benefit of digging out all my old photos is that I found a few of my old stitching projects from years ago. Someday I'll make a proper post about my old projects, but for now I'll just share a couple highlights. At right is the first stitching project I ever made, with a ton of help from my Mom. I'm sure she threaded the needle and started and stopped the threads for me. She sewed on the cute trim and put the bell at the bottom. This thing hung on the door of my bedroom for years.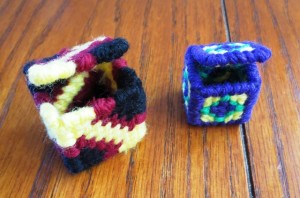 Next are a couple of boxes made from plastic canvas and yarn, made when I was in my tweens and early teens. I made oodles of these little boxes but these are the only two that I still have. They're cute, and I like the diagonal pattern I created on the box on the left.
As usual, I have more commercial ventures underway, including my compass rose needlepoint project and a series of fun cross stitched sayings that will appear on the blog and on Etsy soon. Staying busy is a happy place to be!