Welcome to healthy water themed crafts part 6, the finale of this series! This series of posts are all about crafts that encourage us to drink more water and that help us appreciate clean rivers, lakes, and oceans.
Parts 1, 2, 3, 4, and 5 covered crafts ranging from crochet to polymer clay, woodworking to scrapbooking, chainmaille to knitting and much more. Today, in this sixth post, I'm covering water themes in jewelry, candlemaking, wool dyeing, origami, flower arranging, and more!

[Water by mbasie via Flickr]
Water Themed Crafts in Jewelry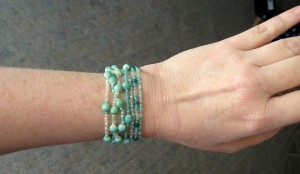 First up is this ingenious way to keep track of your water intake. Contributor shazbraz at pinchingyourpennies.com created these bracelets. Every time she drinks a serving of water, she moves one bracelet from her left arm to her right. It's simple, pretty, and an effective reminder!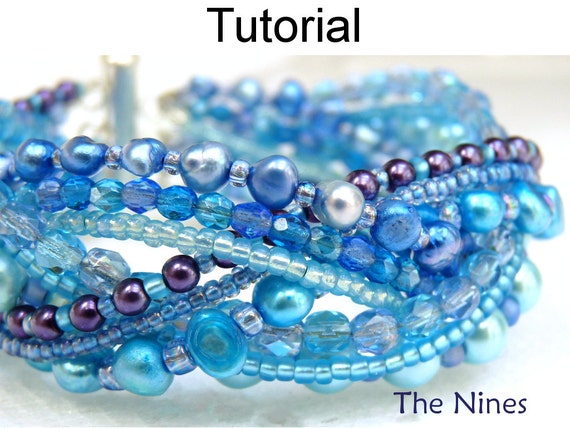 Simple Bead Patterns has a tutorial for this wavy bracelet available in their Etsy shop,
I featured this project in Part 5 of this series, in the section on macramé, but as it is just so pretty and it really is a piece of jewelry, I feel like sharing it again here. Sherry at KnotJustMacrame shares this project which beautifully expresses an ocean beach. From her post: "When I added beads, I kept them random, again mimicking the colors of deeper water with highlights up through the foamy green and into the sand." Sherry offers some tips and tricks on her blog, and has tutorials for sale on her Etsy shop if you like her micro-macrame.
I like this easy tutorial from Jordan at Picklee on how to make this casual and attractive hemp and sea glass bracelet. You could put this together in matter of minutes!
Another quick and easy nautical-themed bracelet tutorial comes from HenryHappened. For less than $6 and 5 minutes time, she created this bracelet that also converts into a necklace!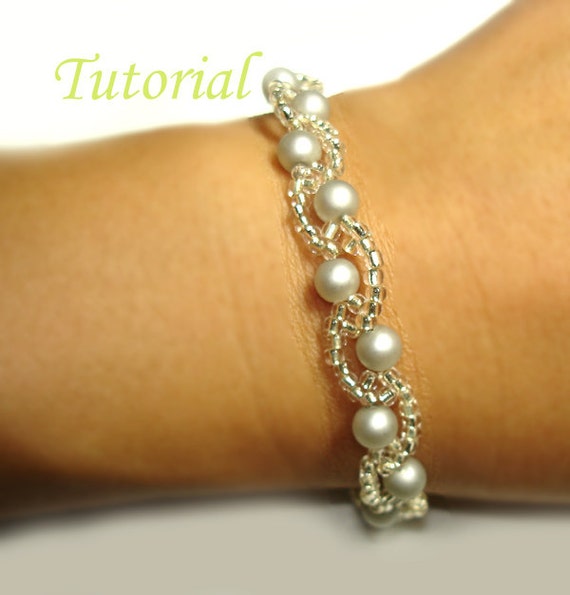 On Etsy, the Splendere shop offers lots of tutorials, one being this simple but elegant "Barely Wavy" bracelet,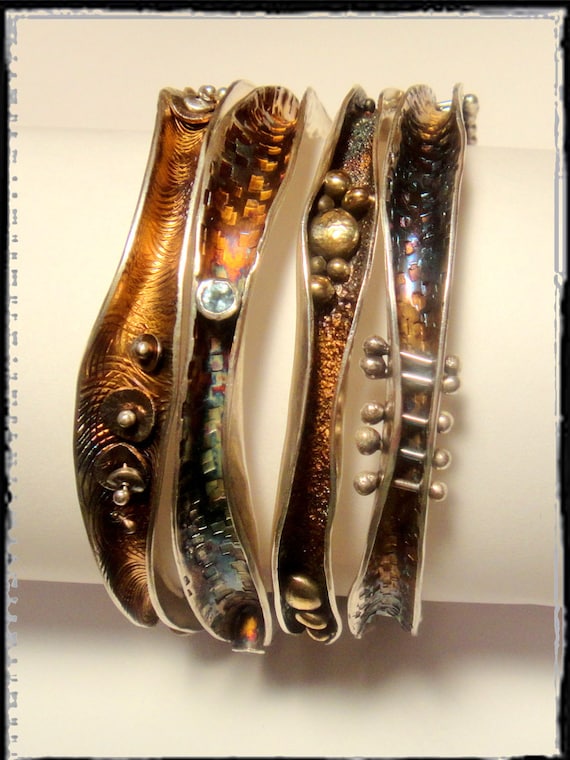 and the LittleRock Etsy shop offers a tutorial on how to silversmith these fun and funky Wave Bangles.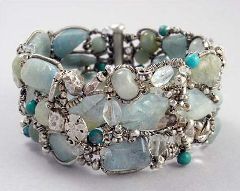 Some creative inspiration can be found in this chunky aquamarine, turquoise, and silver bracelet entitled "Dream Big as the Ocean Blue" by Eni Oken,
and also inspiring is this unique and brilliant Beach Bracelet by TerahsClassicCreations. In the link, take a look at the bracelet when it's unclasped and laying flat. Wow!
The WireWorkers Guild website has an interview with Louise Goodchild, who created this delicate and serene wire and beadwork pendant. She has other water-inspired pieces visible in the article as well.
Through the AlaskaJewelry website, artist Matt Bezak offers this unique and striking wave pendant with diamond accent.
The simple ocean-inspired bracelets and necklaces made from charms and beads are a great way to support the Crystal Cove State Park in California.
The spiral peyote stitch has a natural wave-like form, and it can be used to make both bracelets and necklaces. This tutorial by Inspirational Beading is a great place to learn how to make this pattern.
On the PapernStitch blog, Jenny Hoople shares her tutorial on how to create this gorgeous Falling Water necklace. It beautifully combines pearls, semi-precious stones, and shell coins.
When Pearl at BeadingGem reviewed the book Irina's Inspirations for Jewelry: From the Exotic to the Everyday, one of the projects she featured was this striking Shades of the Ocean necklace. It's easy to see the progression of beach sand to deep water in this piece.
Instead of using real and often endangered coral, here's a tutorial from Divya at JewelsofSayuri for a necklace and earrings using (non-endangered) epoxy clay,
and Albina at AroundBeads offers a tutorial to make these pretty and delicate beaded coral tassels that can be made into earrings or pendants.
Natalie from NorthShore Days has a guest post on HappyHourProjects on how to make these quick and lovely wire wrapped sea glass earrings. She says that once you get a little experience, you can make lots of these earrings in very little time!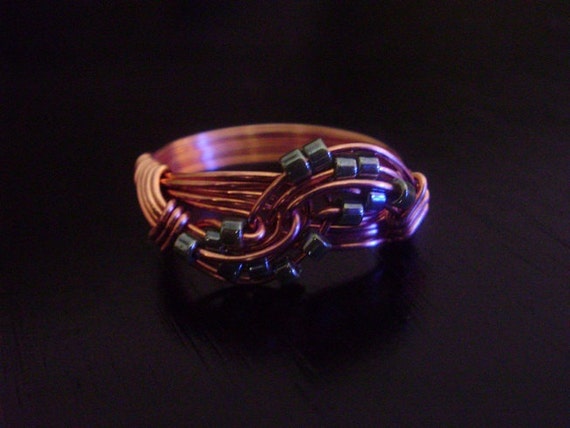 Through their Etsy shop, CrossedWiresJewelry offers a tutorial on creating this intriguing copper wave wire ring.
Skylight Jewelers of Boston have several wave-shaped bands in their repertoire, including this gorgeous two color ring.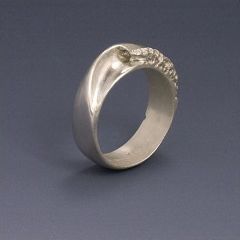 HetWestern offers this sterling silver ring that features a curl in the right break of the wave,
and ExoticaJewelry has this striking Eastbourne ring with finely detailed waves and spray.
Water Themed Crafts in Candlemaking
ShamrockCandles has this DIY on how to make an oceanic candle with a sea shell plate. In addition, they have a host of other candle ideas and products with ocean themes.
EHow has this tutorial on creating these pretty shell-embedded candles that involves two layers of wax, the outer layer having a higher melting temperature.
Water Themed Crafts in Wool Dyeing
First up, I've found some interesting tutorials on using Kool-Aid to dye wool. The first method is from Leethal and uses a crock pot,
and the second method by Kerry at TalesofaNeedleandThread uses ice cubes and a sunny day. Both methods look like they could be a lot of fun, and they both produce gorgeous results!
Now, is it possible for those methods to produce anything as pretty as the following examples?
This variegated blue and green by RedRidingHoodYarns is just beautiful.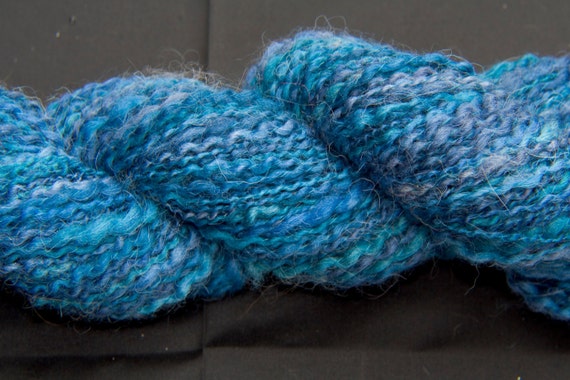 This kinky and fun blue yarn by LenaBrownDesigns on Etsy already resembles ocean waves,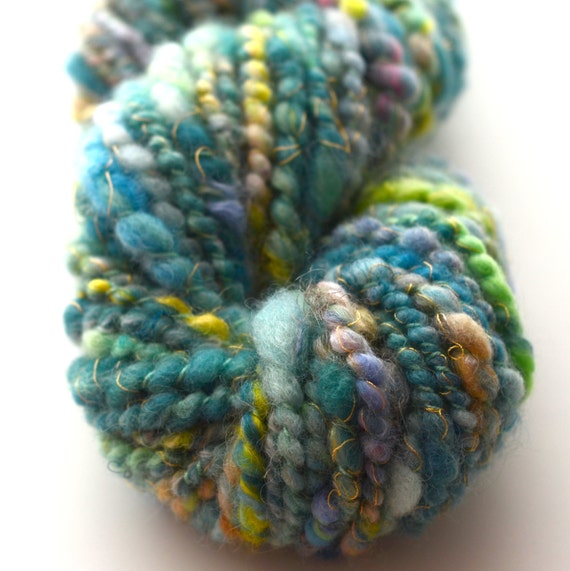 and this is the very aptly named "Beach Glass" yarn from GypseeArtSupplies also on Etsy. It's so pretty!
Water Themed Crafts in Origami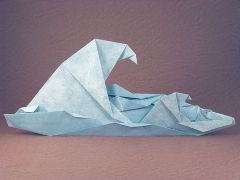 Gilad Origami has a review of Peter Engel's book Origami Odyssey. One of the patterns in the book appears to be this wave, folded by Gilad himself.
The always brilliant blog AllThingsPaper featured this work by Andrea Russo, an Italian artist, titled "The Great Wave off Kanagawa."
Water Themed Crafts in Flower Arranging
The Dutchbaby website has a photo of this flower arrangement created to compliment a waterfall painting. The arrangement nicely captures the colors and shapes in the painting.
WeddingWire has this post of ocean-themed table centerpieces, most of which are simple and inexpensive while looking elegant.
Water Themed Crafts in Giftwrapping
The last photo in this post from Decor8 on ocean hues is this experiment in gift wrapping. It's unique and so lovely!
Water Themed Crafts in Digital
My last item for this post is from the world of Minecraft, and it's how to make glass bottles which can then be used for holding water and then on for brewing potions. I wonder if beer is considered a potion?
That hopeful note finishes this healthy water themed crafts part 6, covering jewelry, candlemaking, wool dyeing, origami, flower arranging, giftwrapping, and a little diversion to Minecraft. Is there anything in these crafty categories that you would like to add to the comments?
Make sure you have checked out the previous posts of this series!