This Texas cross stitch pattern and kit are now available in my Etsy shop!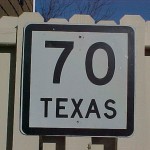 The pattern is based on a Texas Farm Road sign. The standard Texas highway sign (photo at right) is a bit plain so I thought these farm road signs would make a much more interesting cross stitch pattern.
The Farm-to-Market and Ranch-to-Market road system was established in 1949 as a project to provide access to rural areas. You can read more about these roads on Wikipedia.
I can easily customize this pattern for any of your favorite Texas roads! Texas Monthly has this great article on scenic Texas drives.
[Photo: Texas Road Signs by motg via Flickr]

 [Park Road 5 descends to the bottom of Palo Duro Canyon, Texas. Photo from 75Central via Flickr]
[Somewhere in the Texas Panhandle near Canyon. Photo from 75Central via Flickr]
[Texas Bluebonnet Highway by RobGreebonPhotography via Flickr]
Show some Texas spirit and create a reminder of a favorite drive in the Lone Star State with this Texas cross stitch pattern and kit!