This US Highway cross stitch pattern and kit are now available in my Etsy shop!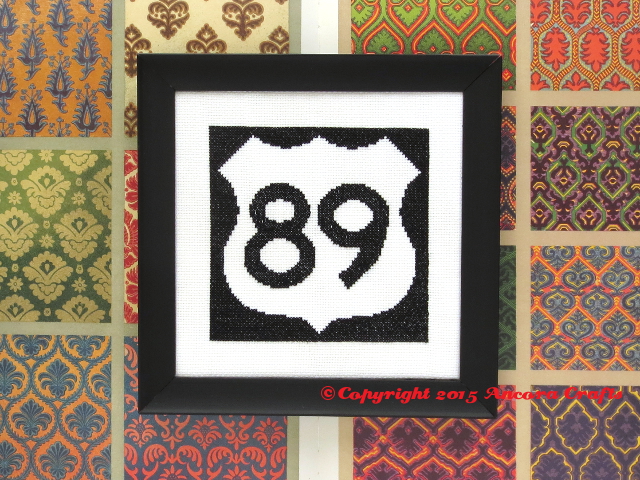 The pattern is based on real US highway signs. The stitched example, Highway 89, is a roughly 1250-mile stretch from the Montana-Canada border to Flagstaff, Arizona. It is nicknamed "The National Park Highway" as it links seven national parks including Glacier National Park in Montana, Yellowstone National Park in Montana and Wyoming, Grand Teton National Park in Wyoming, Zion and Bryce Canyon National Parks in Utah, and the Grand Canyon in Arizona. It also provides access to numerous other national park areas including national monuments.
[Bryce Canyon by Suzanham via Flickr]
Another fascinating location along Highway 89 is Thistle, Utah. According to Wikipedia, it is "a ghost town that was destroyed by a lake resulting from a landslide in 1983."
[Thistle, Utah by Rick Smith via Flickr]
The US numbered highway system was approved in 1926. Before then, "auto trails designated by auto trail associations were the main means of marking roads through the United States." With names like the "Bee Line Highway," "Glacier to Gulf Motorway," and the "Old Spanish Trail," these trails' names definitely sound more romantic than their numerical replacements.
Route 66 is probably the best known of all the US Highways, although it was officially removed from the highway system in 1985. It spanned roughly 2450 miles from Chicago, Illinois to Santa Monica, California. Before the numbered highway system, this path included parts of three trails: The Lone Star Route, the Ozark Trail, and the National Old Trails Road. It was the migration path for thousands of people during the Dust Bowl in the 1930's and again during World War II. It inspired both a popular song, "(Get Your Kicks on) Route 66" and a successful TV show in the 1960's. Eventually, the growth of the Interstate Highway System rendered Route 66 obsolete, however many parts of the old roadway have been specially designated as "Historic Route 66" and set aside for preservation.
[Route 66 Hackberry (Arizona USA) by Perry Tak via Flickr]
I can easily customize this pattern for any of your favorite highways. Create a reminder of a favorite drive or road trip with this US highway cross stitch pattern and kit!
This pattern is just the latest in a series of US and state highway sign patterns. Others in the series thus far include Colorado, Alaska, California, Texas, Michigan, Utah, Florida, New Mexico, Georgia, Washington, Montana, and an Interstate sign… Check 'em out!