This variegated floss comparison Part 2 between DMC and Anchor will help explain the similarities and differences between the two brands. In Part 1, I covered Anchor's 1200 series where each floss is variations of one color, e.g., fuchsia pink to light pink or from royal blue to light blue. In this Part 2, I'll go through Anchor's 1300 series, called their "Multicolors," most of which really do live up to that name.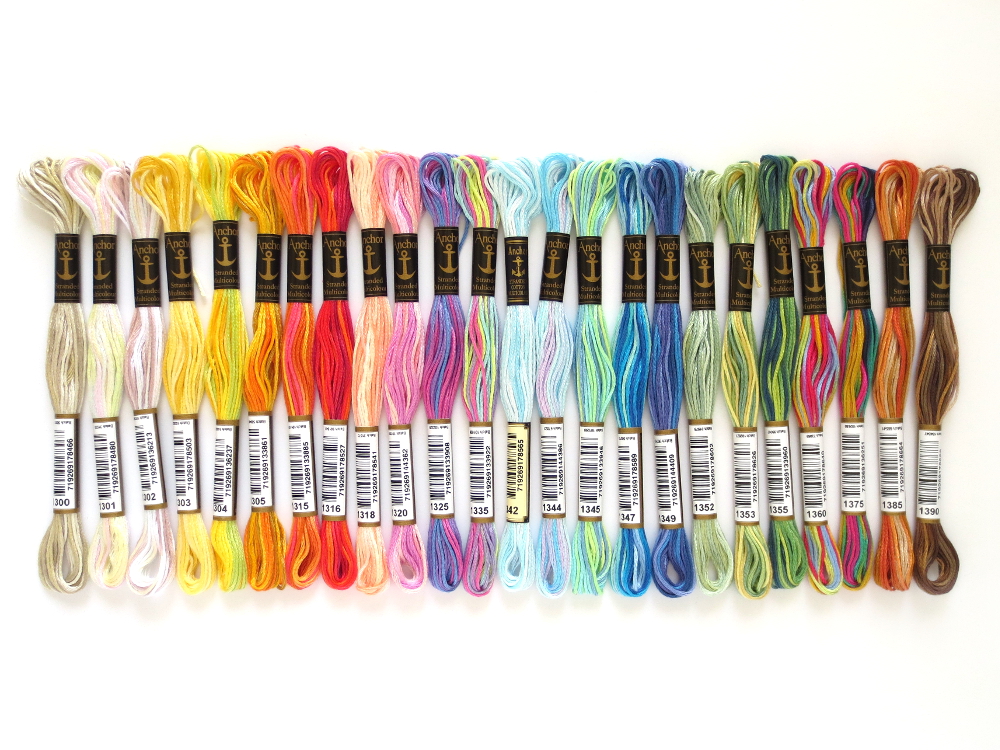 I'll share a brief description and a photo of each Anchor floss with what I determined to be it's closest DMC counterpart. I'll also offer a rating between 0 – not different at all to 5 – very different, and also share which Anchor flosses have no DMC counterpart at all.
Anchor 1300 and DMC 4145 both include similar shades of brown, but the Anchor is lighter overall and includes a touch of straw yellow in the mix. Difference rating: 3.
[Clicking on the photos will take you to Flickr, where you can take a closer look!]
Anchor 1301 is the second "incomparable" (the first being the lilac purple 1209 from Part 1). This is a lovely mix of pastel pink, yellow, and blue – a bit like looking at mother-of-pearl.
Anchor 1302 is another "incomparable." Anchor named this floss "Marble" for good reason – it is a great mix of white, pink, peach and a bit of grey – like a pretty piece of marble stone.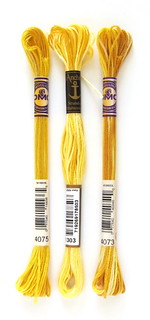 Anchor 1303 has two DMC counterparts, DMC 4075 and 4073. 4075 is much more gold than the creamy yellow tones in the Anchor, and 4073 gets darker than the Anchor as well. Difference rating: 3.
Anchor 1304 also has two DMC counterparts, DMC 4070 and 4080. They're all gorgeous and they all look like daffodil fields to me, however 4080 is definitely lighter than the other two and it's shades of green are much more subtle. 4070 has more green where the yellow in the Anchor is more prominent and tends toward orange at it's extreme. Difference rating: 3.
Anchor 1305's closest counterpart is DMC 4126. The DMC includes some pink where the Anchor does not, and the Anchor has more yellow than the DMC. Difference rating: 2.
Anchor 1315 and DMC 4120 have orange in common, but that's about it. The DMC is all in shades of orange and orange pink where the Anchor includes true pink and yellow. Difference rating: 4.
Anchor 1316 has two counterparts, DMC 4200 and 4205, and all are gorgeous fiery reds. Where 4205 is red and purple and 4200 has slightly lighter reds mixed with some pink and orange, the Anchor includes raspberry, red, orange, and gold. Difference rating: 3.
Anchor 1318's closest counterpart is DMC 4090. While they are both peachy, the DMC is definitely more yellow compared to the pink in the Anchor floss. Difference rating: 5
Anchor 1320 and DMC 4260 both include pink and purple. The DMC includes darker purple where the Anchor includes a hint of peach in it's pinks. Difference rating: 4.
Anchor 1325 and DMC 4215 are both gorgeous combinations of blue, purple, and pink. While the blue is very similar, the pink in the DMC is much more subtle than the bright fuchsia in the Anchor. Difference rating: 3.
Anchor 1335 is the fourth of the eight "incomparables." This variegated floss is a very fun combination of pink, purple, aqua blue, and lemon (almost fluorescent) yellow. I can't wait to see this floss in a project!
Anchor 1342 and DMC 4020 share a similar light blue, but the Anchor is basically shades of that one blue only. The DMC includes other shades of blue and is more water-like than it's sky-like counterpart. Difference rating: 4.
Anchor 1344's closest counterpart is DMC 4214. The DMC has much more pink and the blue at one extreme is much darker than the Anchor. The blue in the Anchor also is a bit closer to aqua. These are both really pretty flosses, but they definitely are different. Difference rating: 4.
Anchor 1345 and Anchor 1347 are in in a unique situation with DMC 4050 and DMC 4030. With it's combination of bright green, aqua, and blue, 1345 looks like a great combination of 4050 and 4030. 1347, with it's deep blue and light aqua extremes, just seems like the last step in this gorgeous four-floss progression. Difference rating for 1345: 3, for 1347: 4.
Anchor 1349 is pretty much just a lighter version of DMC 4240. Difference rating: 3.
Anchor 1352 is our fifth "incomparable." With it's minty to celery green shades, it's a very pretty combination of green.
Anchor 1353's closest counterpart is DMC 4065. However, the DMC is green with some grey and peach colors where the Anchor is slightly brighter greens and buttery yellows. Difference rating: 4.
Anchor 1355 is another "incomparable" – this time a lovely mix of dark blue and yellow-greens.
Anchor 1360 may be my favorite of all these "incomparable" Anchor flosses. It's really what I would consider to be closest to a rainbow with it's variegated raspberry, gold, green, blue, and purple.
Also very cool is Anchor 1375, the eighth and final "incomparable." Anchor has named this floss "Harlequin" and it's easy to see why with it's variegated pink, gold, green, and blue.
Anchor 1385 has it's closest counterpart in DMC 4128. The DMC is mostly shades of one color where the Anchor includes taupe, rust, peach, and dark gold. Difference rating: 4.
The last Multicolor is Anchor 1390, who's closest counterpart is DMC 4140. These are two very different flosses as the DMC is warmer tones of brown with a hint of pink, whereas the Anchor is in cooler shades of chocolate, gold, taupe, and maybe a touch of purple in the mix. Difference rating: 5.
That wraps up this variegated floss comparison between Anchor and DMC. One thing to keep in mind is that DMC has 76 variegated flosses compared to Anchor's 40, so all of the DMC flosses did not appear in this comparison. In fact, DMC has 43 variegated flosses that have no comparable match in the Anchor line.
Don't forget, this Part 2 post covered just Anchor's 1300 "Multicolor" series of variegated flosses. Please check out Part 1 that covered Anchor's 1200 series of flosses as well!
A footnote on this post: In order to get the full effect of the differences and similarities of the flosses, you really need to see them for yourself in different types of lighting. I've tried my best to capture the subtleties of the color differences, but cameras can't always do the same job as the human eye. Also, keep in mind that all of the various computer monitors and screens will display colors differently.