Welcome to Part 1 of this six-part series on variegated floss projects! I'm going to share a ton of ways to use variegated floss in craft projects ranging from needlework and quilting to furniture, jewelry, and home decor.
Variegated flosses are beautiful and by their very nature, they make every piece that uses them unique. No two people will ever use the exact same length of a floss in the same way, thus every project will have a different result! This makes creating with them an exercise in curiosity and a fun adventure.

This first post on variegated floss projects is going to concentrate on three types of needlework: cross stitch, needlepoint, and embroidery. These are probably the most popular ways of using variegated floss, and for good reason as you are about to see.
Before we get to the projects, Alison Murray at Dream a Little Big has this excellent tutorial on creating your own variegated floss, and in her part 2 she has a free pattern that you can use with your new floss!
However, there are hundreds of beautiful variegated flosses available from a variety of companies and retailers. I'm proud to have all 76 colors of the DMC six-strand variegated flosses available in my Etsy shop. They're gorgeous to look at and, with the consistent quality of DMC floss, they're easy to work with.
Variegated Floss Projects in Cross Stitch
On About.com, Connie G. Barwick has a few things for newcomers to consider when working on variegated floss cross stitch projects, such as her free "Yummy Watermelon" pattern seen here.
Also on About.com, Connie shared some very helpful advanced tips on using variegated floss in cross stitch, including dyeing methods and how to achieve certain looks with specific techniques. Definitely worth the read.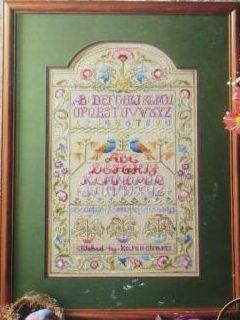 This pretty variegated floss sampler by Nancy Rossi through Better Homes and Gardens can be seen in a couple of places on the net. The pattern is not in print anymore, but you can still find it on Ebay.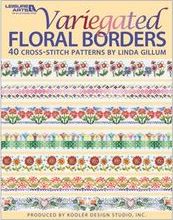 There is a ton of inspiration in this LeisureArts book of variegated border patterns. The different elements of these designs could be mixed and matched in a million different ways!
In a more modern vein is this great project by Elizabeth Hartman featured on her blog Oh, Fransson! She replicated the Tokyo subway map first for a quilt and then for this cross stitch. She changed floss colors every nine stitches, creating a variegated effect. I think variegated flosses would work very well in this project, with the added bonus of not having to tie off and start so darn much. Regardless, what a bright, colorful and fun project!
I love this little biscornu project by Lorraine at HippywitchCrafts. It uses variegated floss around the center and then again in the border. It's just darling…
[Here's a link to more information on biscornus]
This pretty bookmark is a free design from Lady Kell of Kincavel. As the pattern is relatively simple, the variegated floss nicely augments the design.
Some of the best cross stitch patterns that lend themselves to using variegated floss come from Tracy Horner of Ink Circles. Her designs range from this small "Aventail"
to the more complex "Turkish Delight"
and her popular "Baroque," all of which look stunning executed in variegated floss. Take a leisurely look through her store and her latest news to see all her great projects that could be executed in variegated floss.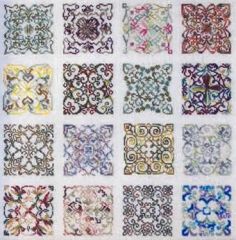 Another great source for patterns is Nordic Needle. As well as carrying many of Tracy Horner's Ink Circles designs, they feature other artists as well. This Itty Bitty's design is a perfect way to try out lots of new variegated flosses,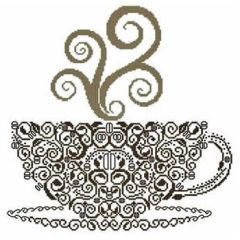 while this coffee pattern would look terrific in a variegated floss. Might I be so bold to suggest DMC 4000 – Espresso?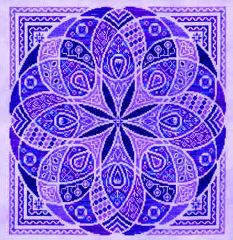 I'd also like to share this pattern, called Plum Pudding. Here, in it's original purples, it's a gorgeous design.
Then Kristal, one of the employees at QuiltingAdventures, stitched it in different colors, and I must say, to a beautiful result. When you look at some of the detail photos, you can see where she used variegated flosses to add just a sparkle of visual interest to some of the backgrounds. She started this color scheme by picking out some flosses from her stash. What an amazing stash that must be!
Variegated Floss Projects in Needlepoint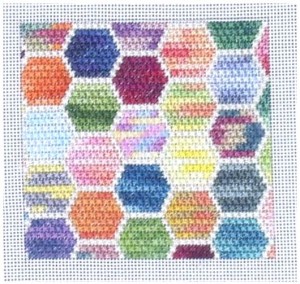 This hexagon pattern might appeal to those people new to variegated flosses and would like a fun project on which to try them, or those who may have existing stashes of variegated floss. This example comes from the CarolStitches blog.
The project originated in Janet Perry's May 2012 Stash-Busting Club. I believe it uses the mosaic stitch shown here to make a glasses case (I wish I had a link to more information about the project). What a great way to experiment with variegated floss while working with hexagons – currently one of the most popular shapes in crafts!
A quick project is this needlepoint and leather keychain on RedFlannelPantry, given to a 16 year old girl when she got her driver's license. Variegated floss in the basketweave stitch is a great choice to create the background effect you see here.
This post by Laura at TwoHandedStitcher shows how different colors used with the same pattern can produce completely different end results. I like how she used variegated threads to create a little more visual interest, especially in this green and gold example.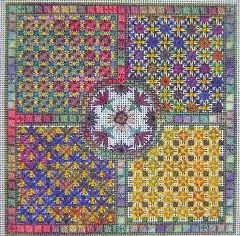 Inspiration and patterns for needlepoint projects that use variegated floss can be found all over the web. The Caron Collection has several including this pretty "Chrysanthemums Garden"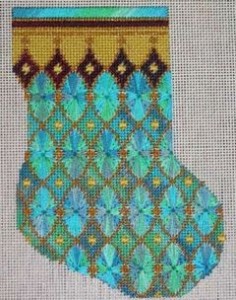 and this "Venetian Glass" stocking pattern. Clicking the link to this design will also show how vastly different the same project can look using different colors and stitches.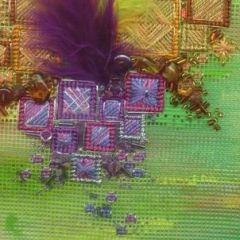 There's plenty of inspiration in this post by Janet M. Davies. She has quite a few smaller projects that use lots of variegated floss, including this detail from one of her fantastic creations,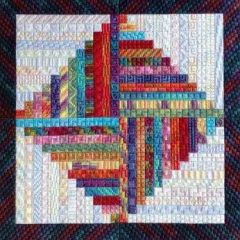 and 123Stitch has lots of needlepoint patterns by a variety of designers. A great example is this Summer Logs pattern that uses no less than 18 different variegated flosses in an amazing array of different stitches. This fun sampler would never get boring!
Variegated Floss Projects in Embroidery
I'll start with some machine embroidery inspirations as I have a really lovely story about hand embroidery that I will use to wrap up this post.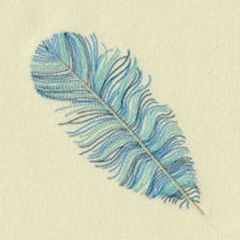 DesignsinStitches has quite a few patterns that call for variegated thread. One example is this feather pattern; one of a set of 10.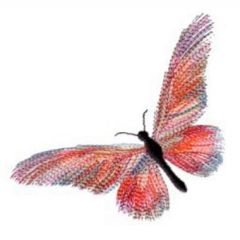 EmbroideryDesigns has a series of four birds and this pretty butterfly,
and ABCEmbroideryDesigns has this cool Paisley Motifs set. This example is stitched in a rainbow variegated thread that suits the pattern perfectly.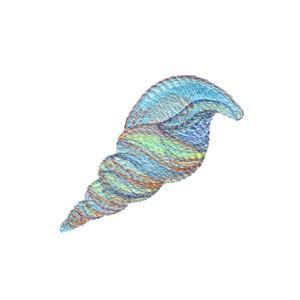 And this is one of a set of 15 sea shells available through NeedlePassionEmbroidery. They are a really gorgeous collection!
I'll start the hand embroidery with this lark of a project, embroidering patches for old jeans, from Charlotte on her Ta Da! blog. This little patch is a great way to experiment with different stitches and variegated floss.
Amy Friend at DuringQuietTime used a Sizzix to create the pattern for this lovely partridge Christmas ornament. She then used Cosmo variegated floss to stitch the embossed pattern to a very sweet result.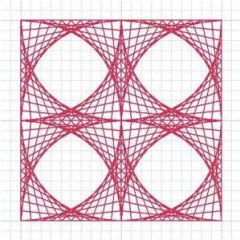 I bet this pattern from Lady Kell of Kincavel would look great in variegated floss. It's a bit of a flashback to a Rush laser show at the Planetarium, but there's nothing wrong with that!
I love this simple but elegant idea from TheSmallestForest on using up leftover floss, and I love how she's put some variegated strands in the mix. I think the variegated gives the piece just that little bit more randomness and visual interest than solid colors alone would produce.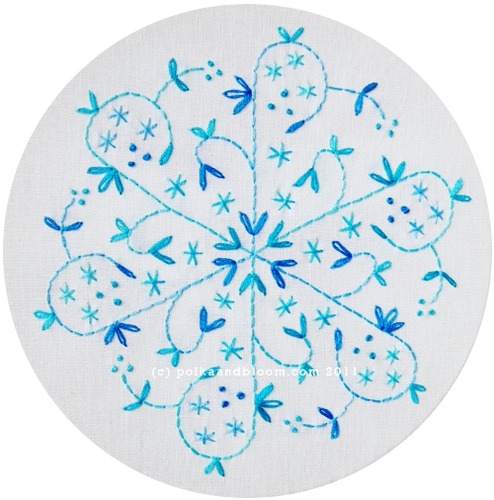 From Polka&Bloom, this fun and lighthearted Aqua Snowflake pattern, along with it's siblings the Gold and Lilac Snowflakes, would look awesome in variegated flosses (if they're not already). These three patterns are a lovely trio.
For some more beautiful inspiration and examples of embroidery stitches in variegated floss, you need go no further than the Flickr photostream of Margreet from Holland. On her crazy quilt blocks, she consistently produces embroidery of great quality. She uses a multitude of colors and types of stitches to achieve all kinds of textures and effects.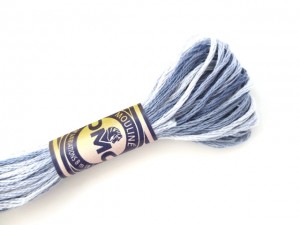 My last example is a story from Kim, one of my customers, who purchased skeins of DMC 4240 and 4235 (shown). As I love these flosses so much, I ask many of my customers how they use them. She replied: "I stitched a labyrinth in a hoop for my friend who lost her mom to ALS in October. Walking a labyrinth has meant a lot to her. I used the 4235 and my friend said the colors were just perfect."
What a lovely way for Kim to support her friend! I'm really happy that I was able to provide Kim with the floss for her project.
If you would like to see the design, the labyrinth pattern she used is available from Jenny Hart's Sublime Stitching, and it was featured in Jenny's tutorial on the backstitch.
That rather touching note wraps up this first of six posts on variegated floss projects! Are there any projects in the crafty categories of cross stitch, needlepoint, or embroidery that you would like to add to the comments?
Stay tuned for more in knitting, quilting, scrapbooking, jewelry, decor, and a whole lot more!
Update: Here are Part 2, Part 3, Part 4, Part 5, and Part 6.