This Willy Wonka cross stitch pattern is now available in my Etsy shop!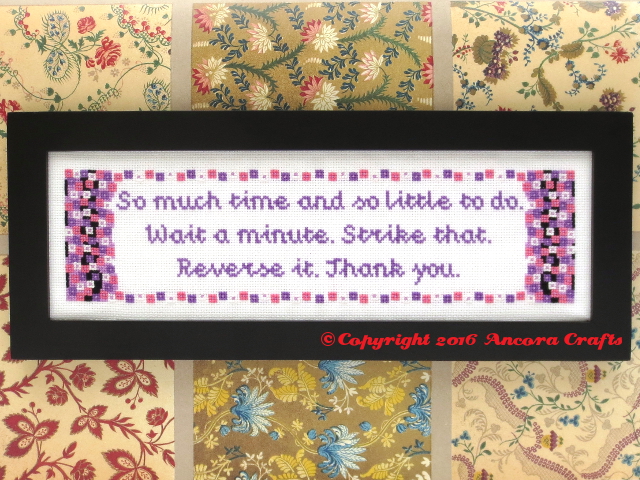 This pattern features one of the famous quotes from Gene Wilder's character in the 1971 version of the movie. As the visitors to the factory have just walked in the door and are removing their coats, Willy says: "So much time and so little to see. Wait a minute. Strike that. Reverse it. Thank you."
Only after I stitched the photographed example did I realize that I got the quote slightly incorrect! In my mind and on IMDB.com the line is "…so little to do," whereas the line in the movie is clearly "…so little to see." Nevertheless, this project will appeal to fans of the movie and to busy people everywhere (and who of us isn't busy?).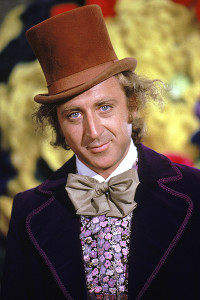 The border of this pattern is a homage to the floral fabric in Willy Wonka's waistcoat. With it's purple, pink and white flowers on a background of black and light purple, it's an enduing part of Willy's ensemble.
On Spoonflower, there are two separate versions of this fabric, as well as two different "Golden Ticket" fabrics, a reproduction of the "lickable wallpaper" fruit pattern, and a rather unusual fabric of Willy with the Oompa Loompas.
If you're unfamiliar with the movie, it's based on the book Charlie and the Chocolate Factory by Roald Dahl. At it's release in 1971 it received good reviews and fared decently at the box office. Since its release for television and home video, it has become a cult classic with quite a few devoted fans.
Dahl didn't like this version of the movie, saying it strayed too far from his original book. One can understand his concerns, considering the change of emphasis from Charlie to Willy, the introduction of Slugworth as an enemy, and the inclusion of seemingly random literary quotes from various authors. I've also heard that the lyrics of the Oompa Loompa's songs were completely different than what they sang in this this first version.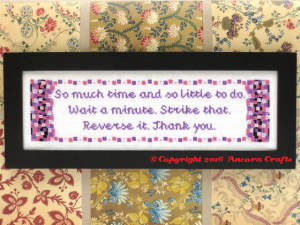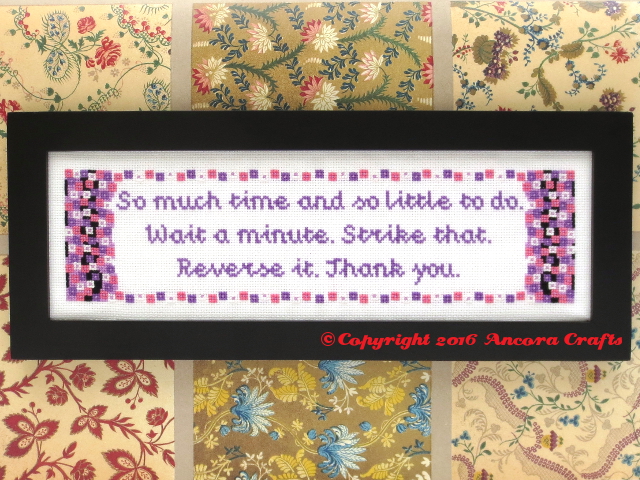 Dahl's family was much happier with the Tim Burton-directed version of Charlie and the Chocolate Factory starring Johnny Depp from 2005. Although they are much different movies, I happen to like them both. Ah, but when it comes to quotable lines, the 1971 version certainly takes the (chocolate) cake.
This Willy Wonka cross stitch pattern is perfect for all fans of the movie Willy Wonka and the Chocolate Factory and for all of us with hectic schedules.