This Life Sucks cross stitch pattern is now available in my Etsy shop!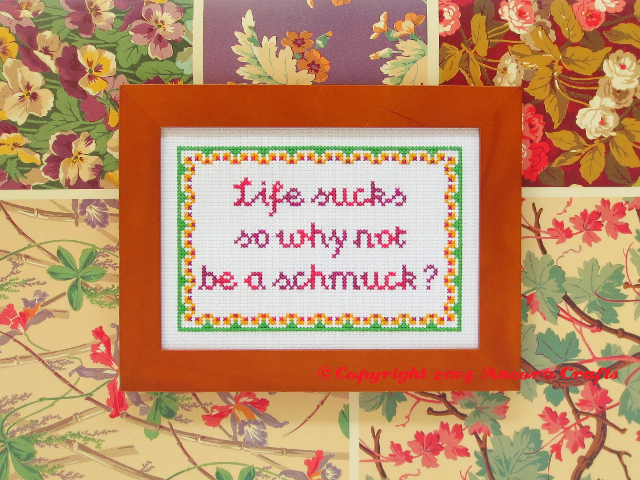 This quote comes from Chevy Chase movie "Modern Problems." The antagonist, played by none other than Dabney Coleman, has an incredibly abrasive personality. At one point in the movie he says "You gotta understand something. Life sucks, so why not be a schmuck?" He uttered the line in a slightly southern drawl, which makes it just that much richer.
Dabney Coleman probably is best known for playing jerks. Among other roles, he was the evil boss in "9 to 5," the womanizing soap opera director in "Tootsie," and a government spy director opposite Tom Hanks in "The Man with One Red Shoe." In Modern Problems, he plays Mark Winslow, a Dr. Phil type therapist who calls everyone "a manipulatin' son-of-a-bitch." Here's a clip of him in character:

According to IMDB, Dabney has said that "I've played good guys and nice guys, but the truth is I'd rather be nasty than nice. The bad guys are always better written and more fun to play."
Modern Problems may not be the most popular of all of Chevy Chase's movies, but it surely has some funny moments thanks to a talented cast that included Patti D'Arbanville, Mary Kay Place, Nell Carter, and Brian Doyle-Murray.
I personally don't subscribe to the idea of being a schmuck (at least not on purpose). In fact, my Life Sucketh Not pattern released earlier in 2014 more accurately reflects my philosophy. However, there are those curmudgeons out there – tactless, sometimes rude, and they really don't care if they offend someone. This project is for them!
This Life Sucks cross stitch pattern stitches up quickly and is good for beginners and experienced stitchers alike! As a fun touch, I used DMC Variegated Floss 4210 (Radiant Ruby) for the lettering and in the flowers and it turned out prettier than I had imagined.