This suggestive Zesty cross stitch pattern is now available in my Etsy shop!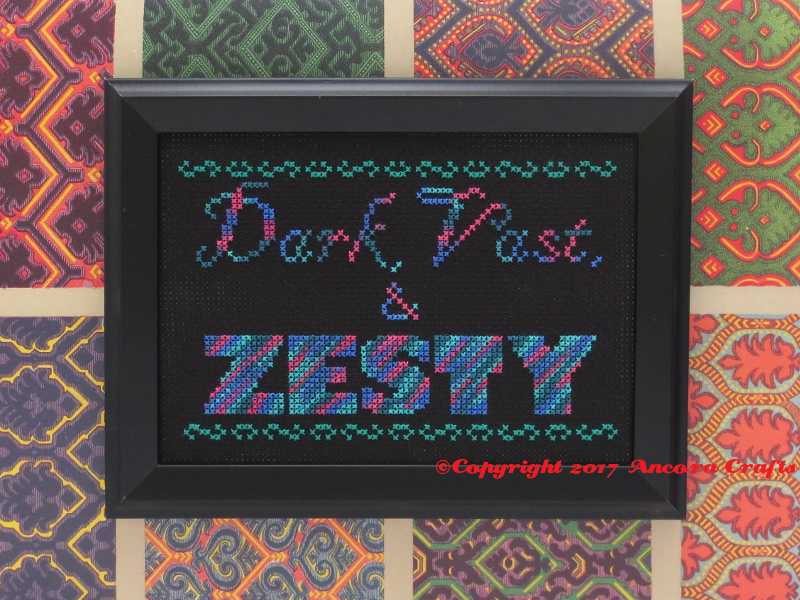 Dark, Vast, and Zesty may sound somewhat like a double entendre, but it has a much more innocent origin. A family member got himself into an enormous financial mess that peaked when he had a life-threatening illness, and it took many of his friends and family to help dig him out of trouble (physically and financially). One person was entrusted to make an honest and extensive list of every debt and issue outstanding. When this person emailed the list to the others helping, he prefaced it by saying the list was "…dark, vast, and zesty," which cracked me up!
Of course, "dark, vast, and zesty" could refer to a number of different situations, some more virtuous than others. I think it could add a fun air of mystery to greet your guests, with them thinking "just what the heck does that mean?" It remains a really funny line and a great reminder to find the humor in less than ideal circumstances whenever possible. [By the way, the family member is recovered and doing much better now.]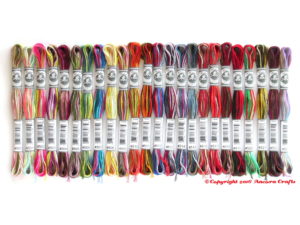 The variegated floss used in this Zesty cross stitch pattern is the gorgeous and rich DMC Coloris 4507 Bougainvillea, available in my shop along with the entire range of DMC and Anchor variegated flosses (DMC's newest colors, the Coloris collection, are shown at right). I also offer a selection of beautiful ThreadworX variegated flosses as well.
Variegated flosses are beautiful and by their very nature, they make every piece that uses them unique. No two people will ever use the exact same length of a floss in the same way, thus every project will have a different result! This makes creating with them an exercise in curiosity and a fun adventure. See the my series of Variegated Floss Projects to see a wide variety of projects that would look great in these color combinations!