Once again I'm happy to share more progress on my compass needlepoint project!
In the last update, I had finished all of the radiating tiles and was ready to start filling in the background and the borders.
Here's my latest photo – she's looking gorgeous!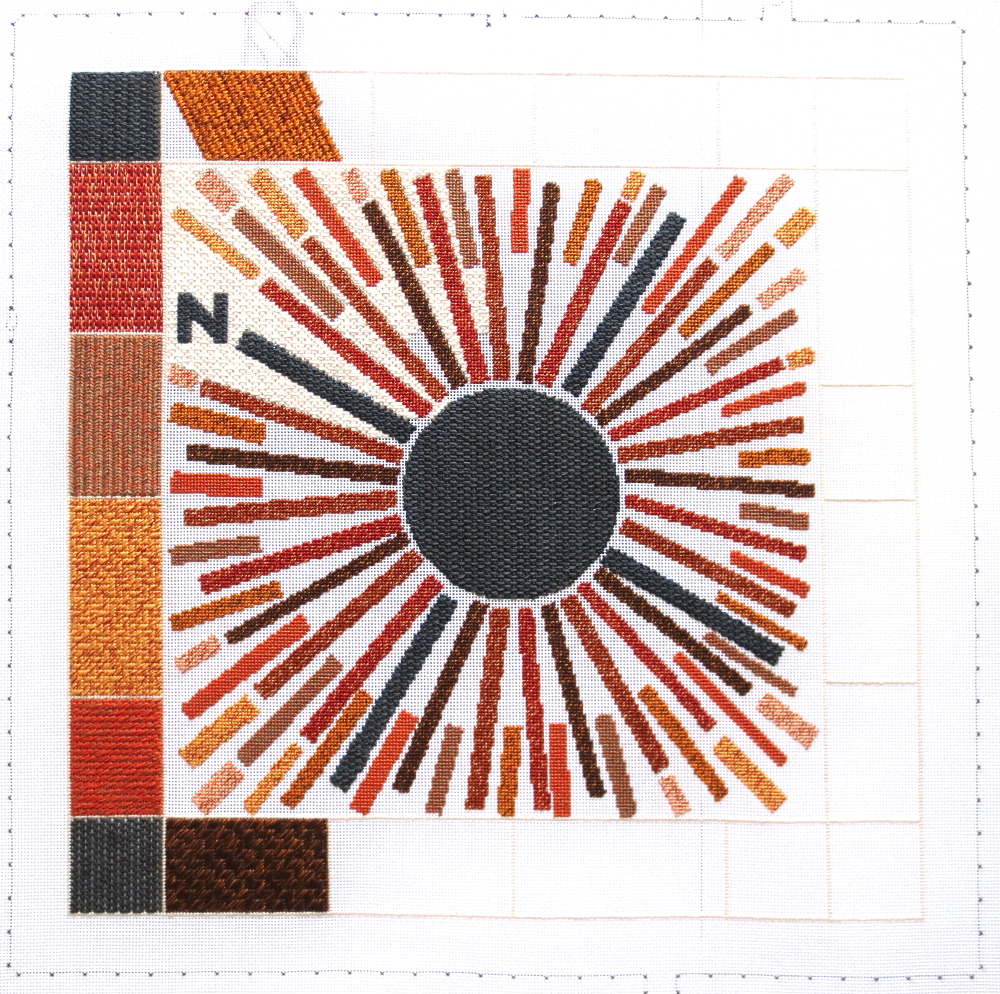 All of the border tiles are outlined, and I've started filling them in as well as the background. The four corners will be the same double stitch as the center circle and the four primary direction tiles. All of the other border blocks will have a different needlepoint stitch.
Here you can see a bit more detail of the individual stitches. At the top, I've used Cashmere stitch worked diagonally. Next one down on the left is the Parisian stitch, and the Fern stitch below that.
I'm using the Hungarian stitch with ivory thread in the background of the center. It's lovely, but it is really challenging to keep the pattern flowing in the tight areas between the blocks of color!
From the top of this photo you can see the Brick Cashmere stitch, the Oblique Slav stitch and the Byzantine stitch. I had to add an extra element to the Oblique Slav section as the stitch with the thread I'm using didn't cover the canvas quite enough. It still looks great, though!
I'm still very happy that I have slightly blended the colors, mixing 5 strands of the main colors with one strand of contrasting colors. I did this to better represent the speckled color and texture of the original tiles and to add a little visual interest. This looks good in the radiating tiles, but I think it looks even better in these border blocks.
The next step is to just keep filling in the background and occasionally take a break to have some fun filling in the border blocks with interesting stitches. I would LOVE to have her done by the end of this year (2015) as I have some other very cool needlepoint projects ready to stitch. However, this one has to get finished first!
The previous updates (Update 1 and Update 2) have info on the inspiration for this pattern – a patio tile pattern at the beautiful Cuq en Terrasses hotel near Toulouse, France. Take a look!