Welcome to this series on hexagon crafts, which should really be titled HEXIE MADNESS! Hexagon crafts are incredibly popular, and have been for years. It's a trend I think and hope will be around for a long time. This is the first of four posts covering hexagon crafts ranging from crochet to cakes, pottery to popsicle sticks, and everything in between.

[Photo: Detail of a giant kite by Gerald Keller via Flickr]
Before I get into the specific projects, I'd like to share this story by Megan of SewingInCircles. While she was traveling, crafting hexies had a huge anxiety and stress-relieving effect for her:
"…we were stranded, flights were cancelled, next available flights were two days later….clearly a time when either alcohol or chemistry would be needed to calm the nerves.
"But never fear, the hexies are here!! (and a large glass of wine)
"By the time we actually boarded a flight, I was frazzled, I was like frazzle rock, or frazzle wrecked. But I pulled out my hexies and started to sew. The hexies were with me because I had no other handwork that was in a state to travel. But once again, handwork saved me on the flight from shaking the whole way."
This is a great example of how crafts can benefit us all. So take a look at these great hexie projects, get inspired, and get crafting!
Hexagon Crafts in Quilting
Diane of CraftyPod created this tutorial for Spoonflower for making these modern and bright quilted hexie placemats.
Through this link love post from also from Diane, I saw this tutorial for bordered hexies that, like Diane says, makes me "want to chuck my whole To-Do list out the window and spend my day making these things." The colors and fabrics in this photo by Silly Lil' Doe! are so attractive!
Here's a great tutorial from SewHappyGeek on how to sew a mug rug made of all hexies: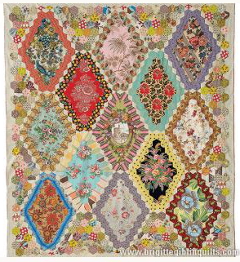 And I love the vintage and scrappy feel of this quilt pattern available from BrigitteGiblin. This is a great way to show off some feature fabrics and get your hexie fix at the same time!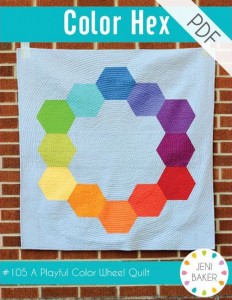 If you don't feel like making a zillion tiny hexies, PinkChalkFabrics offers this Color Hex Quilt Pattern by Jeni Baker. Very fun!
Wild Olive takes the quilted hexie to the next level with this tutorial to make one into a necklace,
and MicheleMadeMe has this tutorial available on making this adorable fabric hexie headband!
Hexagon Crafts in Leather
I found these two products that certainly could be used for some crafty inspiration! The first is this very fun leather hexie pouf by KSIA-Berlin.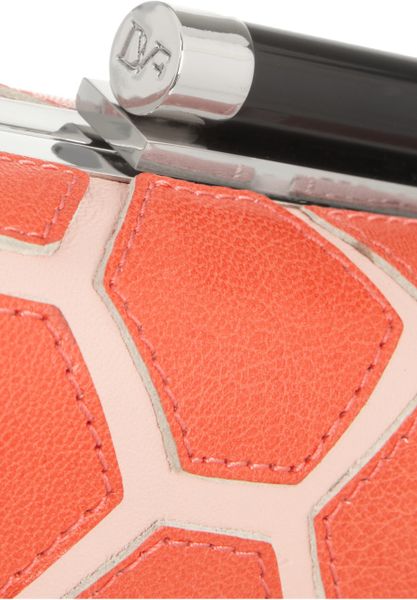 Second is this elegant and colorful box clutch by Diane Von Furstenberg via Lyst.
Hexagon Crafts in Scrapbooking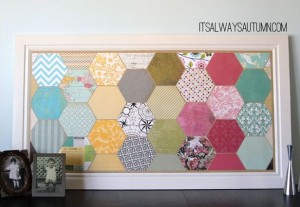 I knew this tutorial by Autumn at itsalwaysautumn was a keeper as soon as I saw it. It's simple, inexpensive, gorgeous, and a great way to use and display some of your favorite scrapbook papers!
Kelly Purkey on her It's Me, KP blog has this very useful Photoshop tutorial on how to make hexagon photos without using a punch.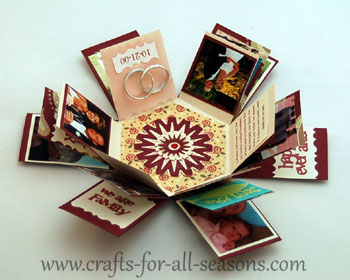 I had never really heard of an "explosion box" before I saw this hexagon box project by Karen on CraftsForAllSeasons. I imagine it would be a great present for someone who already has everything! Very clever…
When it comes to hexagons in real-live full-on-scrapbook pages, I'm going to direct you to this article by the GetItScrapped crew at DebbieHodge.com. The article covers using hexagon shapes, creating visual interest with hexies, using hexagon embellishments… covering just about every way hexies can be used in scrapbooking layouts. An excellent resource!
Hexagon Crafts in Weaving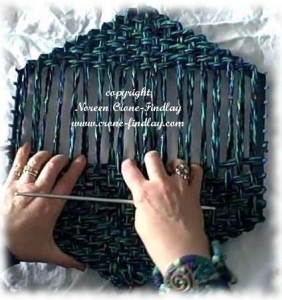 Noreen Crone-Findlay has a video tutorial on how to weave a hexagon using a Lily Speed-O Weave Loom. I can only imagine how warm a blanket made from these woven hexies must be…
Hexagon Crafts in Jewelry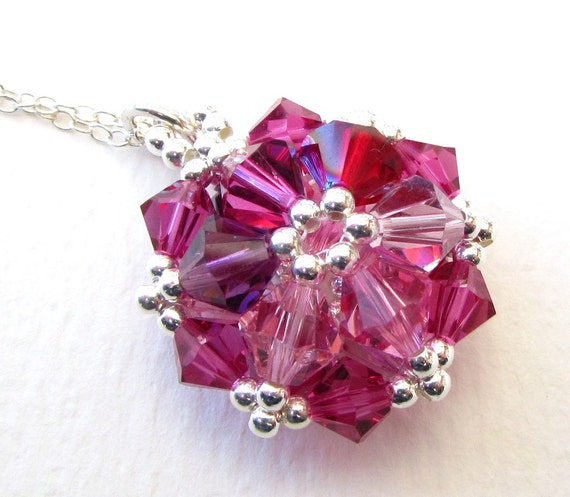 Here's a tutorial from Lynn Davy available on Etsy on how to make this fun, colorful, and sparkly crystal hexagon pendant,
and I found instructions to make these basic hexagon stitch beaded earrings from Chris Franchetti Michaels on About.com.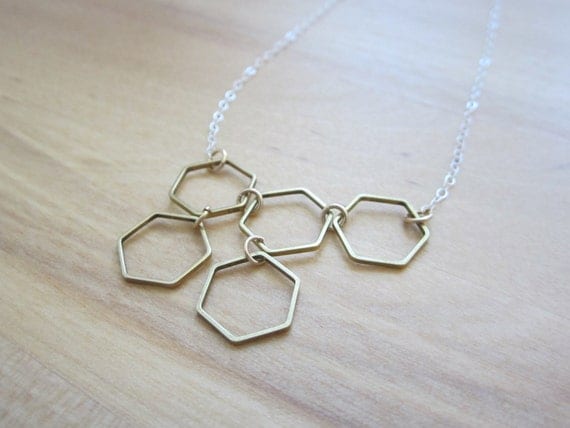 You might find some inspiration in this simple and elegant geometric honeycomb necklace by HyJewelry on Etsy,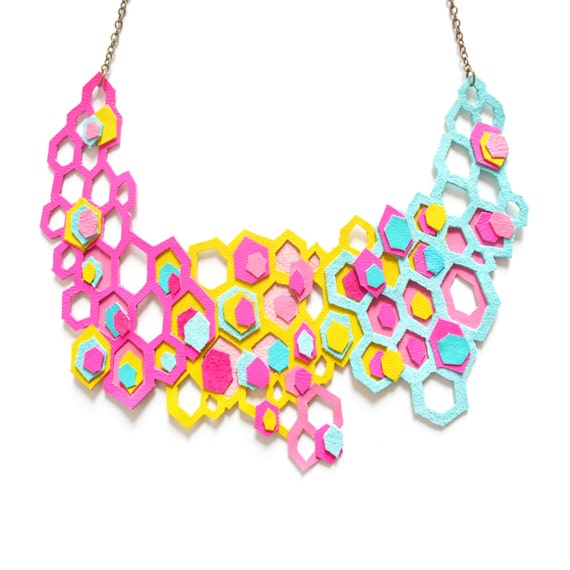 and with this bright and gorgeous neon statement necklace made of leather by BooandBooFactory. BooandBooFactory features a lot of hexagons throughout their shop – check 'em out!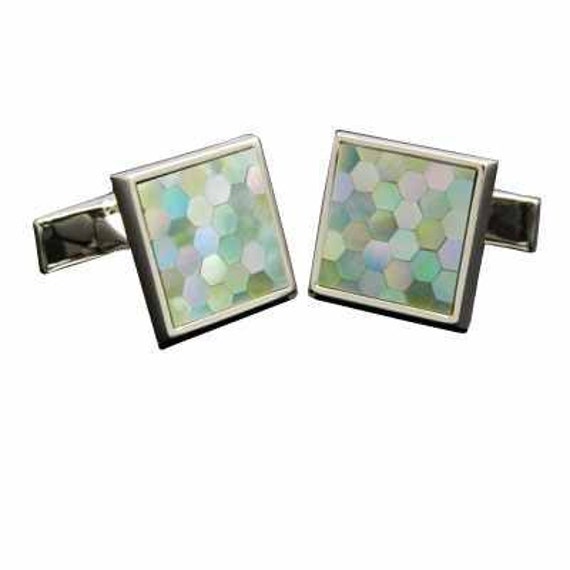 For the sharp dressers, I spotted these beautiful mother-of-pearl hexagon cufflinks from CuffCuff.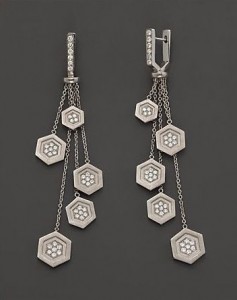 And finally, once again not a tutorial, but I just ADORE these earrings by India Hicks that were available at Bloomingdale's. They're beautiful, and with the right outfit, they would be absolutely stunning!
That gorgeous note concludes this, the first of four articles on hexagon crafts. Is there anything else in these five crafty categories (quilting, leatherwork, scrapbooking, weaving, and jewelry) that you would like to add in the comments?
Stay tuned for hexie crochet, pottery, painting, needlework, stained glass, gardening and much much more!
[Update: here's links to Part 2 (crochet, felt, lace and tatting, polymer clay, origami, popsicle sticks), Part 3 (sewing, pottery, knitting, quilling, woodworking, plastic and stained glass), and Part 4 (paint, cross stitch, embroidery, baking, lamp making, and gardening)]