Welcome to Hexagon Crafts Part 4! This series on hexagon crafts should really be titled HEXIE MADNESS! Part 1, Part 2, and Part 3 of the series covered all kids of crafts: from quilting to quilling, jewelry to crochet, origami to leatherwork and everything in between. Today we're covering hexagon crafts ranging from needlework to making a pendant lamp and lots more!
 [Hexagon Sewing Machine by Crafty Dogma via Flickr – (what a beautiful machine!)] 
Hexagon Crafts in Cross Stitch, Needlepoint, and Embroidery
Dragonflylotus Designs offers this cheerful hexipuff pattern.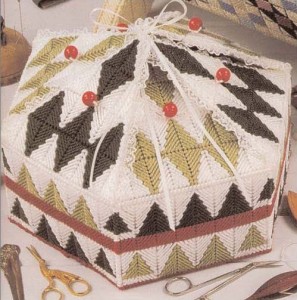 This pattern for a hexagonal sewing box (or anything box, really) made from plastic canvas is interesting. While this is particular example is pretty, the colors and accents used here don't intrigue me much. I'm sure that with the right colors this could be made into something really gorgeous!
Mollie of WildOlive created this project which combines fabric hexies with colorful and freeform stitching for a fantastic decorative result.
On FeatheredNestStudio, Jennet posted about her very pretty hexagon embroidery sampler. I like the simplicity and her use of colors and fun stitches!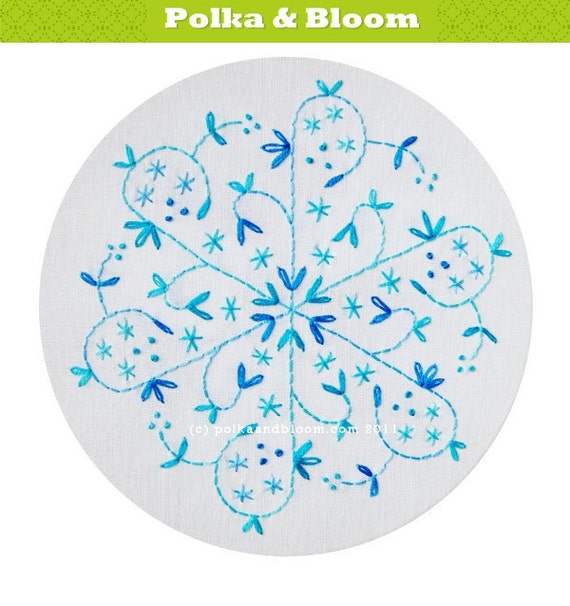 Of course, snowflakes ARE hexagons. I just love these colorful and beautiful embroidery snowflake patterns by Carina at PolkaandBloom.
Just two weeks ago, Becca at Ladyface Blog posted this tutorial for embroidering hexagons on tea towels. Very cute!
Hexagon Crafts in Gardening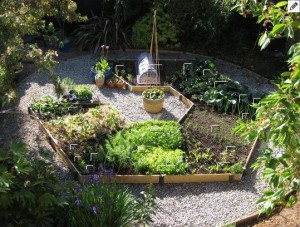 I wish I had the space for this compact hexagonal raised bed garden! This post by Alexdlp at the Instructables site gives layout suggestions and construction details. The keyhole element to facilitate maintenance is both practical and attractive.
This article at PhoenixPermaCulture doesn't contain construction instructions, but you can see how they used "salvaged and scrap 2×4 and 4×4 lumber pieced together to form 4 1/2′ across hexagons." And when you're gardening for sustenance these hexies are surely a great way to go.
Hexagon Crafts in Baking and Cake Decorating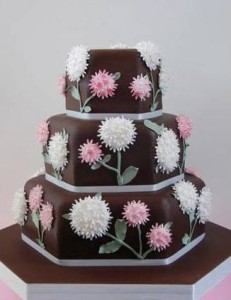 Of course, there are many, many hexagonal shaped wedding cakes. Here are two beautiful decorated examples: This Chocolate Garden Wedding Cake by MaisieFantaisie,
and this henna-themed cake by Natalie at ChandelierCakes.
Then I found this cake, decorated with colorful fondant hexies, by Maggie at VibranceandChaos.
My jaw dropped when I saw these amazing cookies, inspired by crocheted afghans, by Zoe at WhippedBakeshop. WANT. I wonder what flavors are available…
Next up are these decorated cookies by EmmyJeanCookieMachine, based on the hexie shaped board game "The Settlers of Catan." Fun!
I found this recipe for honeycomb stained glass cookies at FancyFlours, with their adorable sugar bees. I'd like to see these cookies made with other flavors and colors of sugar candy as well!
Hexagon Crafts Pendant Lamp
This tutorial for a DIY pendant lamp by Amanda at OurHumbleAbode is pretty good! It's not perfect, but for a first attempt and at the inexpensive price it's hard to beat. I wonder how it's held up over time…
Hexagon Crafts in Paint
SolidWoodBench has this great tutorial for making a cute hexie stenciled door mat,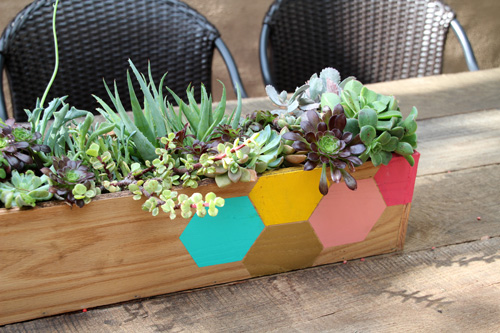 and Morgan at PepperDesignBlog, as part of a Pinterest challenge, made this planter box with fabu painted hexie accents!
This tutorial from Jesse at NineRed not only shows how to paint some awesome hexies, it also has great information about refinishing any piece of furniture, even if it's ugly 70's plastic!
This photo and DIY from VintageRevivals left me nearly speechless. HOW COOL IS THIS WALL? Actually, the whole room is very cool, but the hexies and the graduating shades of color – stunning! I imagine that the biggest pain was building the hexagonal wood latticework. Do you think an equally cool latticework could be accomplished using washi tape?
That gorgeous wall wraps Hexagon Crafts Part 4. Is there anything else in these crafty categories (paint, cross stitch, embroidery, baking, lamp making, and gardening) that you would like to add in the comments?
Make sure you've checked out the quilting, leatherwork, scrapbooking, weaving, and jewelry featured in Part 1, the crochet, felt, lace and tatting, polymer clay, origami, and popsicle sticks in Part 2, and the sewing, pottery, knitting, quilling, woodworking, plastic, and stained glass in Part 3!