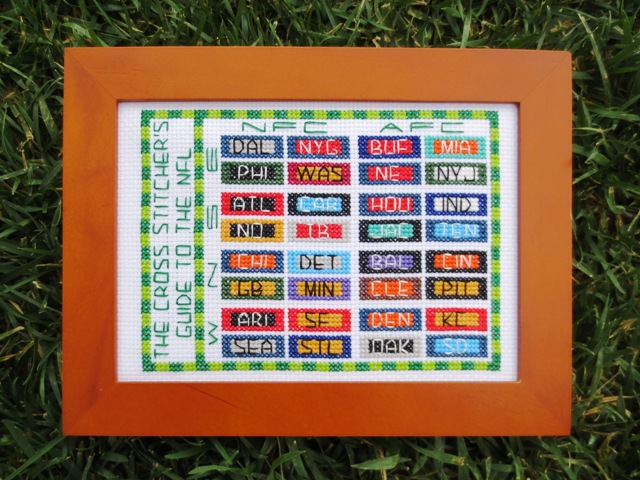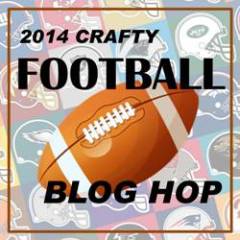 This cross stitch guide to the NFL is my contribution to this year's Crafty Football Blog Hop hosted by commissioner Diane Gilleland of CraftyPod! Like last year's blog hop, this 2014 hop is a combination of participants in the Crafty Fantasy Football League (#CraftyFFL) and other fellow crafty and inventive football fans. At the bottom of this post are thumbnails and links to everyone's creations.
Although I am a fan of the Denver Broncos, this year I decided to make a project that could appeal to anyone with some interest in football. If you're unfamiliar with American football, this is a perfect way to introduce yourself to the league. And if you already follow football, this is a fun and colorful way to familiarize yourself better with all 32 teams and a little of how the NFL is organized.
Materials:
A piece of 14 count Aida cloth measuring approximately 10 inches by 8 inches. [In 14 count, this project will fit perfectly into a standard 5 inch by 7 inch frame]
16 colors of embroidery floss – I used DMC numbers 815 (burgundy), 666 (red), 720 or 946 (orange), 783 (gold), 319 (dark green), 699 (green), 704 or 907 (light green), 958 (teal), 336 or 3750 (dark blue), 820 (royal blue), 996 (bright blue), 333 (purple), 838 (brown), white, 168 or 415 (silver), and 310 (black). See the legend for a printable list.
A needle for cross stitch – I use a #26 tapestry needle.
Pattern:
The pattern (pattern and legend) is a tidy little graphic that shows all 32 NFL teams with their team colors, grouped by their conferences (NFC and AFC) and divisions (East, South, North, and West).
Stitching:
This pattern calls for cross stitch and then backstitch. If you're new to cross stitch and looking for basic directions, I recommend you visit my Stitching Instructions page. Otherwise, the stitching is pretty straightforward. If you use 14 count Aida as I did in this example, use two strands of floss with your needle.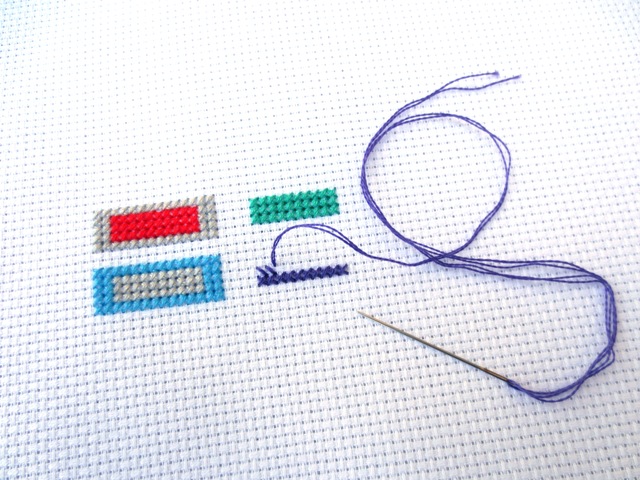 As with most projects, start from the middle and work toward the edges. In this photo you can see how I started with (clockwise from top left) Tampa Bay, Jacksonville, Baltimore, and Detroit.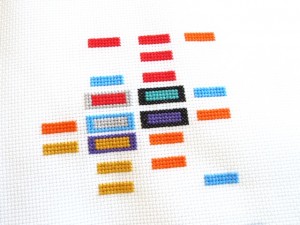 Then I spread out from there, trying to do as much with one color at a time as possible, just to be a little more efficient.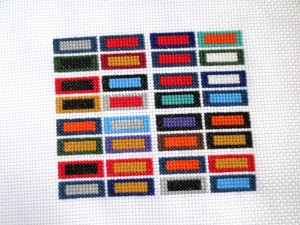 Finishing up the team blocks creates this pattern, which I thought looked pretty groovy on it's own. I can easily see this pattern being turned into an awesome graphic quilt or blanket!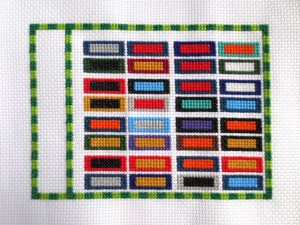 The last of the cross stitch was the border of alternating greens.
Backstitch the title and the labels for the conferences, divisions, and team names, and ta-da! you've created a stylish and informative cross stitch guide to the NFL!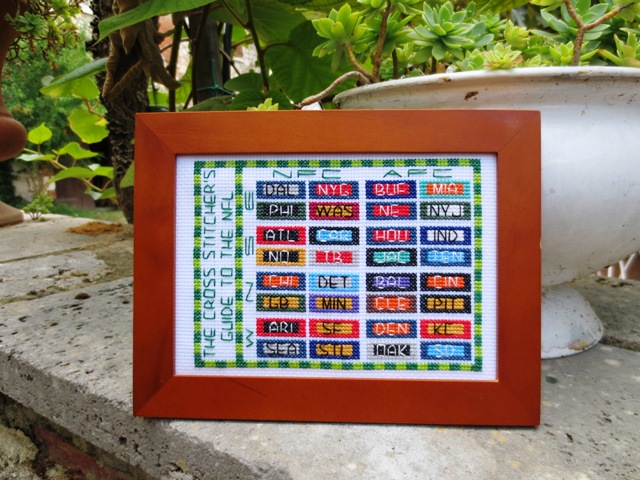 Check out what the other Crafty Football Blog Hop participants made this year!