Welcome to Hexagon Crafts Part 2! This series on hexagon crafts should really be titled HEXIE MADNESS! Part 1 of the series covered quilting, leatherwork, scrapbooking, weaving, and jewelry. Today is the second of four posts covering hexagon crafts ranging from crochet to cakes, pottery to popsicle sticks, and everything in between.

 [Spit and Woodchip Hexagons by Helle V. Fisher via Flickr]
Hexagon Crafts in Crochet
There's a million outstanding crochet hexie patterns out there for purses, totes, blankets, table runners, rugs, hats, etc. (you name it!), and I've got too many favorites to feature just a few. So instead I'll share this terrific Pinterest board by Jeannette that is full of beautiful hexie crochet tutorials and inspiration: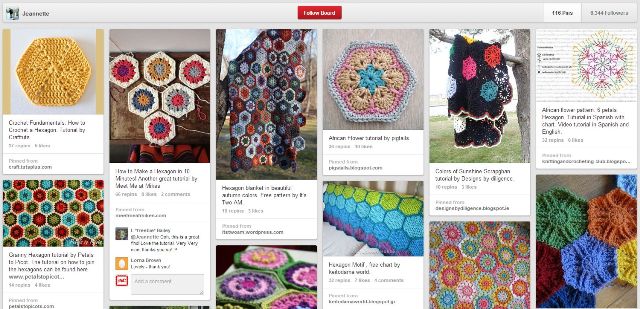 Hexagon Crafts in Felt
This hexagonal felt flower wreath tutorial from Rachel at LinesAcross is just brilliant and beautiful, and a great way to use up felt scraps.
Just recently, Mollie of WildOlive posted this tutorial for an adorable hand stitched felt and fabric pitcher coaster.
Hexagon Crafts in Lace and Tatting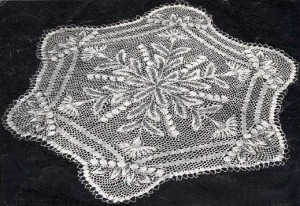 To start is this knitted lace pattern by Herbert Niebling available on E-Junkie.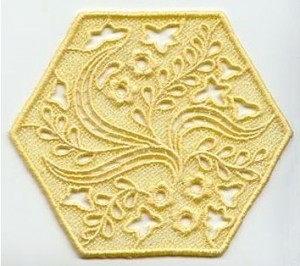 With a more modern vibe is this machine embroidery hexagon floral lace pattern available at EmbroideryLibrary,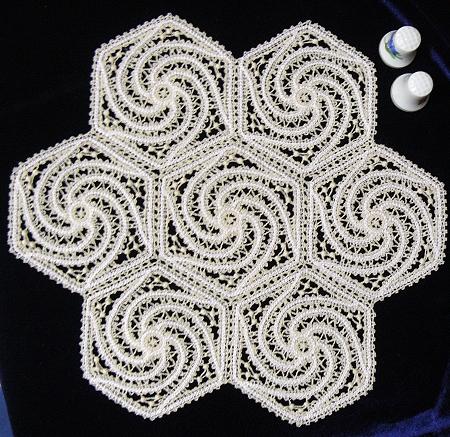 and Advanced Embroidery Designs has this Battenberg Spiral Hexagon Lace pattern for a freestanding lace machine.
On a more handcrafted note is this gorgeous German triangle motif doily by Jeff at BridgeCityTatting. Jeff is a very talented tatter and he has created a lot of hexagonal projects. I encourage you to check out his Flickr Photostream and take a look!
Hexagon Crafts in Polymer Clay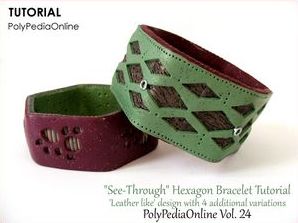 Iris at PolyPediaOnline offers this tutorial for these hexagonal bracelets that, although they look like leather, are actually made from polymer clay!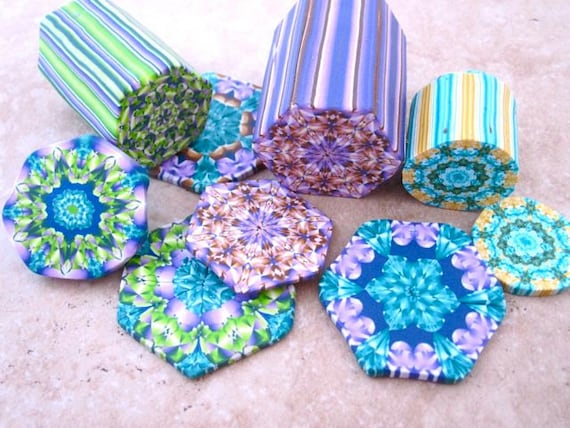 Meg at PolymerClayWorkshop offers two tutorials for making hexagonal polymer clay canes – one "easy intricate" and one plain 'ol "intricate."
I am fascinated by the amount of detail found in some of this polymer clay canework. These are a couple of beautiful examples from iKandi: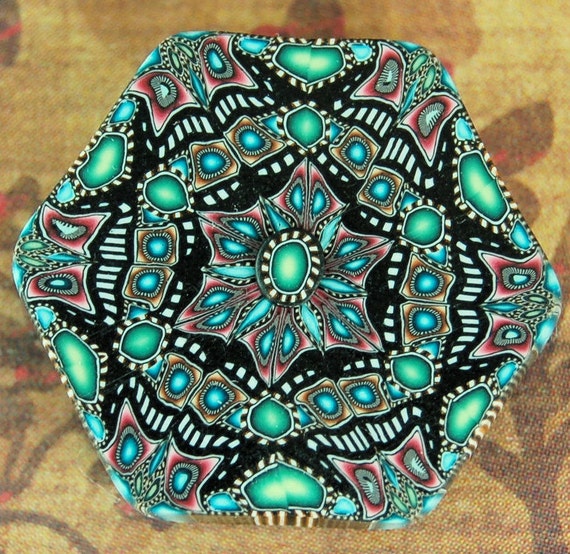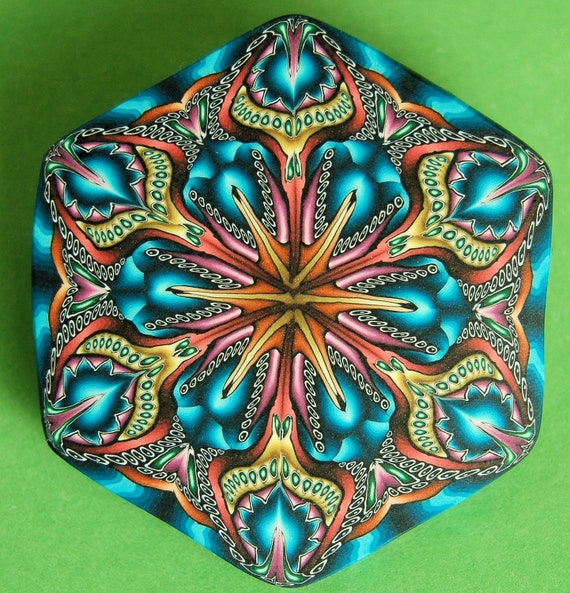 Hexagon Crafts in Origami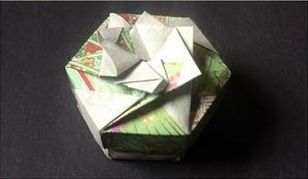 There are tons of examples of hexagon origami – so many that I will only feature a few select links. The first, from TCGames on Instructables, is how to make a hexagonal origami box with lid. This pattern uses two pieces of paper for both base and lid, for a total of four pieces of paper.
This tutorial by Chrissy at PaperKawaii is also for an hexie origami box with lid, but this pattern only uses one piece of paper for base and one piece of paper for lid.
Then I found a pattern for this lovely little origami hexie flower ball on the Origami Resource Center site. It's very cute in pastels as shown, but I wonder what it would look like in some richer colors and patterns.
Then I found this collection of photos from Flickr I can only best describe as "extreme hexie origami." There's some amazing pieces in this mix!
Hexagon Crafts in Popsicle Sticks
I had totally forgotten about crafting with popsicle sticks until I saw this post from LiEr at Ikatbag. These are great fun! Her kids did a good job…
I have to admit that I saved my personal favorite for last. That basket reminds me of some crafts I did a million years ago, and now I can't wait to try them out with some real live kids!
That cheeful note wraps up this hexagon crafts part 2. Is there anything else in these six crafty categories (crochet, felt, lace and tatting, polymer clay, origami, sticks) that you would like to add in the comments?
Make sure you've checked out the quilting, leatherwork, scrapbooking, weaving, and jewelry featured in Part 1, and stay tuned for hexie woodwork, pottery, painting, needlework, stained glass, gardening and much more to come!
[Update: Here's links to Part 3 (sewing, pottery, knitting, quilling, woodworking, plastic and stained glass), and Part 4 (paint, cross stitch, embroidery, baking, lamp making, and gardening)]